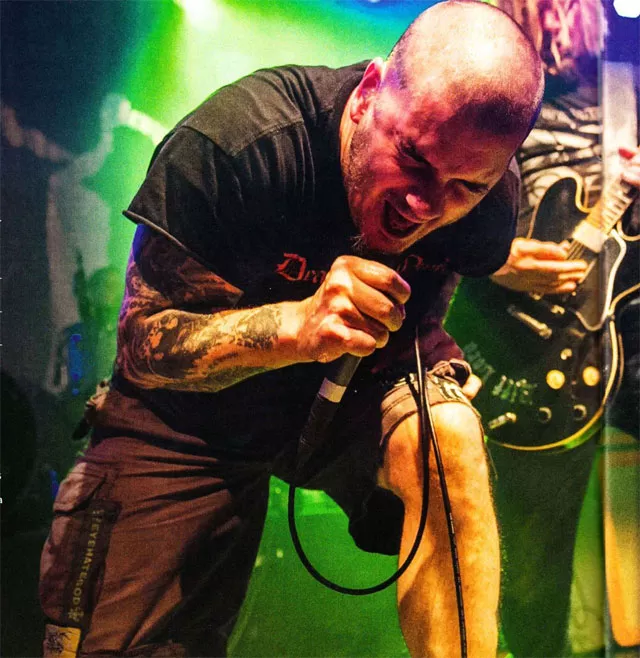 It shouldn't be this easy to jump back in the saddle after a five-year hiatus from recording. But then, Down isn't just any supergroup. The New Orleans-based metal crafters, led by the legendary Phil Anselmo of Pantera and featuring members of Corrosion of Conformity, Goatwhore, and Crowbar, has always been greater than the sum of its parts.
The band has just released its newest recording, Down IV Part I – The Purple EP, complete with new bassist Pat Bruders, formerly of Goatwhore and currently with Crowbar. Despite the awkward title (hey, it worked for Baroness), the EP is pure Down, featuring some of the most solid work the group has ever done.
"We went into this with the idea of recording it the way we did our first demo, way back in 1991," Anselmo said. "We didn't want to over think it, to feel like we were deliberately pushing boundaries. We just wanted to get back to the basic sound, because the songs from that demo are still some of our most popular when we're playing live."
Anselmo, whose diverse career has found him in charge of his own label and recording studio and behind the mic for bands ranging from death-metal maniacs Christ Inversion to hardcore punk throwbacks Arson Anthem, uses Down as the primary outlet for some of his darkest, most poetic lyrics.
"With the lyrics, I didn't want to do anything really political or topical or deliberately stir things up," says Anselmo. "I just wrote what I was feeling at the time, and if people really listen to it, absorb it, then I think they're going to get a lot out of it."
Down will be bringing The Purple EP to the stage during a tour stop in San Antonio with local thrash titans Warbeast. Live shows have always been one of Down's strengths, and Anselmo promises no let-up in their ferocious approach to performing. And as to that title — should fans assume there's a Down IV Part II on the way?
"I'll leave that to you geniuses to figure out," laughs Anselmo. He promises that there will be another EP, a format which he thinks suits the era of the shuffle and the playlist, and which allows Down the chance to release music more frequently without the time-consuming process of recording a full album.
"We're the worst prognosticators when it comes to telling people when our next music is coming out," he said. "Fans will ask us, 'When's the next album?' And we've made liars out of ourselves a hundred times."
Down feat. Warbeast
$25-$30
9pm Sat, Jan 12
Backstage Live
1305 E Houston Street
(210) 698-2856
backstagelivesa.com