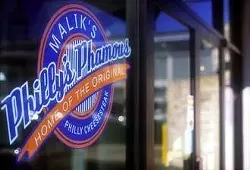 Phast phood Philly-style.
Release Date:
2004-02-05
Malik Rose wasn't the most crucial cog in the Spurs' championship machine last season, but he was certainly among the most popular. A media-friendly mix of on-court, overachieving toughness and off-court loquaciousness, Rose defined the Spurs' collective personality. He did most of the talking at David Robinson's farewell ceremony, shared the MC duties with Steve Kerr at the Alamodome championship bash, and graciously maintained a video diary of the Spurs' playoff run, featured in the team's season-recapping DVD.
Malik is so likable, he can even induce South Texans to go to a fast-food restaurant dedicated to the cuisine of his native Philadelphia. When Malik's Philly's Phamous opened on Labor Day at the Quarry Market, Rose was still reaping the benefits of this city's title fever. Now, midway through an erratic 2003-04 campaign, Rose finds himself in coach Gregg Popovich's doghouse, his playing time radically reduced, and his name the subject of recent trade rumors. How has this affected business at Philly's Phamous?
Apparently, not much. On a recent Monday afternoon, the restaurant drew a healthy lunchtime mix of Quarry shoppers and area businessmen, all eager to take a bite out of the City of Brotherly Love. Philly's Phamous fancies itself as an urban street-corner cheesesteak haven, with a faux-exterior interior consisting of Victorian street lights and a street sign marking the intersection of Market and Broad Streets.
The menu's primary objective is to create as many reminders as possible that Rose plays hoops for a living. It's broken down into sections titled Warm-Ups, Half-Court, and Phull-Court (be prepared: no opportunity to replace an "f" with a "ph" is missed). Among the tributes to Malik's teammates - past and present - are Manu's Mozzarella Sticks, the Admiral's Sub, Steve Kerr's 3-pointer (a deadly mix of ham, salami and capicolla), Timmy's MVP, and the Ball Hog (no truth to the rumor that this ham-and-cheese sandwich is dedicated to former Spur Stephen Jackson). The menu even honors long-departed point guard Avery Johnson with the Lil' General's Burger.
In an effort to get into the same competitive headspace as Rose, I opted for his avowed phavorite, the Cheesesteak Hoagie. The results were passable, if blander than you would find in the heart of South Philly. Then again, I'm not sure I'd trust a Pennsylvania taqueria.
On Spurs game nights, Philly's Phamous turns into a makeshift sports bar, with the contest shown on three TV sets resting high above the cafeteria line and beers going for only 99 cents. If the game goes into overtime, you might feel compelled to do the same, with a sampling of the Iceman's "Italian Ice," a fruit-flavored dessert that Rose cites as the impetus for opening Philly's Phamous. Now if we can only get Rasho Nesterovic and Manu Ginobili to become joint restaurateurs. The Quarry could use a good Slovenian/Argentinian fast-food eatery. •