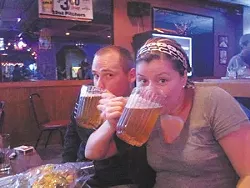 Dr. Ellington and Dr. Adams demonstrate the awesomeness of Rascals' $3.50 mini pitchers.
Release Date:
2009-11-25
According to its charmingly outdated homepage, Rascals Bar is the "Home of Wild Pig Sex." Illustrating this claim: a cartoony drawing of a raccoon having interspecies intercourse with a pig (doggy-style, of course). The pig looks contented (or possibly drugged) and the raccoon — who must be the Rascals mascot — looks a little repulsed. "Ask your bartender for details!" reads the caption. OK, we will.
Even on a Sunday night, Rascals was buzzing with activity — the bar has pool tables (and a pool league), darts, Texas hold 'em, and karaoke every night of the week. It's no secret that the Scientists love karaoke (we're a bunch of exhibitionists, what can we say?), so we camped out at a big table near the dance floor/karaoke stage, occasionally getting up to explore. Best finds of the night: An awesome mural of alcoholic comic-strip characters (Hagar the Horrible, Sid from Piranha Club, Leroy Lockhorn); men's room graffiti reading "JOHNNY ROTTEN"; and my personal favorite: a massive photo collage of "Rascals Girls Gone Wild," which included shots from a past "Erotic Cookie Eating Contest." (It's more ew than ooh, but ... wow.)
Our bartender, an older woman wearing what could only be described as a royal-blue ice-skating leotard, was an incredibly gracious host. "We're 'first name' here," she said. "We're all alcoholics, and alcoholics go by their first names." We readily took advantage of the bar's drink specials, double-fisting $1 Bud Lights, $2 Ziegenbocks, $1 Peach Schnapps Jell-O shots, and $3.50 32-oz. mini pitchers ("I feel like a giant," Dr. Wardlaw said as she slurped from a mini pitcher).
On the karaoke floor, a man who sounded exactly like Rowlf from the Muppet Show belted out a gravelly "Nights in White Satin" from a bar stool while couples slow-danced, hands in waistbands. Meanwhile, Dr. Ellington looked for the Colts-Patriots game on one of the many TVs. "There's no football here. Write that in your article," he said, dismayed.
More rounds were ordered. "This place is too easy to get shitfaced at," Dr. Adams said as Rowlf segued into Neil Diamond's "Sweet Caroline." But Dr. Skelton and Dr. Gonzales would later outdo him with "Summer Nights" from Grease — the "adult karaoke version" (sample lyrics: "She got so wet, she nearly drowned/ He showed off, jerking around"), which might be unique to Rascals.
That must have broken the ice, because before long we were chatting with the staff and regulars. Joe, a middle-aged patron who claimed to hit up the bar four times a week, has been a fan for more than a decade and definitely has seen some rascally events. "I've seen shootings, stabbings, fuckings ..." he said, filling us in on a recent argument he witnessed that escalated into a throat-slashing (fact check: it totally happened!). So why does he keep coming back? "All my old friends are here," he said.
With that, we decided maybe it was getting late. Throats intact, we paid our tabs and were about to go our way when I remembered we never asked about "Wild Pig Sex." Turns out it's Rascals's specialty drink — three different super-secret shots with no mixer. We ordered one, and it was peculiar but not unpleasant — a lot like Rascals itself. Rascals isn't so much a diamond in the rough as a really, really rough diamond. The bar celebrates its 18th anniversary on November 28 with all-day barbecue, drink specials, and, hopefully (fingers crossed!), erotic cookie eating. •
The Scientists is a semi-anonymous drinking club on a mission to test San Antonio's best/worst/weirdest bars and clubs. We take our mission very, very seriously.