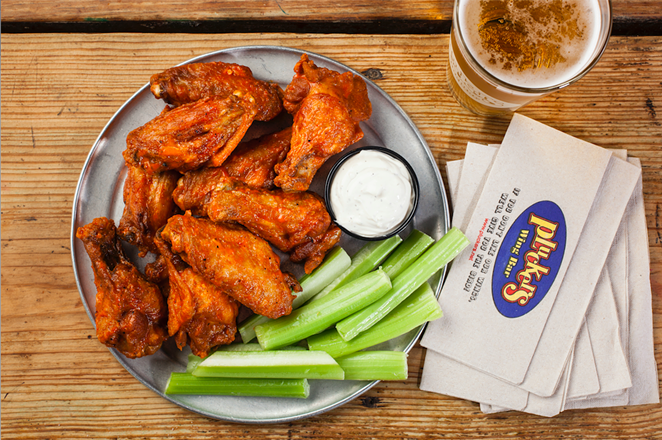 Pluckers
, the Austin-based wing chain, is firing up to open a second San Antonio-area location in
Landmark Center
at Interstate 10 and North Loop 1604 West this summer.
Pluckers opened its first area location in Selma in 2018. The new 8,227 square-foot restaurant will offer indoor and shaded outdoor seating, as well as 850 square-feet of uncovered patio space.
The company spent nearly five years researching and becoming familiar with the San Antonio market before selecting the restaurant location. Pluckers has opened 23 restaurants to date, since business partners Mark Greenberg, Dave Paul and Sean Greenberg opened the Austin flagship in 1995.
"We've loved this corridor and [this area] for quite some time," Sean said. "This is a great area where North San Antonio comes together, within the 1604 Loop. We're just really excited to be there."
Located inside the Landmark Center, Plucker's will join a growing number of area food and cultural destinations such as La Cantera, The Rim, TopGolf and the main UTSA campus.
"We've always tried to embrace the universities that we're near, UTSA is like a sleeping giant and we love everything that's going on over there," Sean said. "A major part of the location's appeal was the accessibility to UTSA and their student population. As guys that founded [Pluckers] as college students, we're sensitive to their needs, and we want to be there for them."
In the meantime, wing fans can celebrate Fiesta at Pluckers' Selma location on April 18. The first 200 Pluckers Club members to arrive will receive a limited-edition Fiesta medal.
"This will be our first foray into Fiesta. I'm from New Orleans, and Fiesta is super-reminiscent of Mardi Gras. We're looking forward to this being a fun event for all," he said.
Guests will also be able to join a house game of Pluck Hunt (an amalgam of several different games with a scavenger-hunt format) before it launches as an official Thursday event on May 2.
Pluckers Club members
, as well as Facebook and Twitter fans can look forward to prize giveaways and opportunities to try free food as the grand opening date approaches.
So many restaurants, so little time. Find out the latest San Antonio dining news with our Flavor Friday Newsletter.