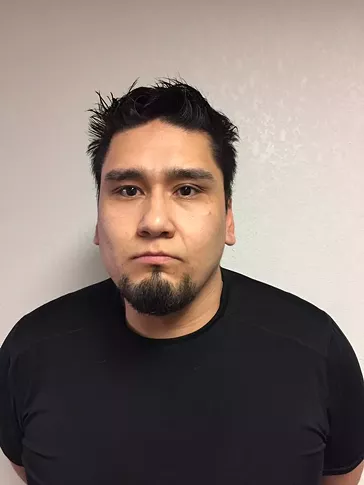 Alpine Police Department
Alpine Police Arrested Robert Fabian on charges of "tampering with or fabricating physical evidence by concealing a human corpse."
On Friday morning, a U.S. Border Patrol agent in West Texas stumbled across skeletal remains that animals appeared to have dug out of a shallow grave. The area, northwest Alpine, is near where 22-year-old Sul Ross State University student Zuzu Verk went missing nearly five months ago.
While police are still waiting for a forensic lab in North Texas to confirm the identity of the body, the discovery was enough for police to arrest Verk's boyfriend, the last person she was seen with before her disappearance on October 11, 2016. (
Update 5:30pm:
Alpine police say
that dental records confirm the remains found Friday morning belong to Verk; a second man, Christopher Estrada, was also arrested on Monday.)
On October 12, Verk didn't show up for work or for an exam at school, and she was eventually reported missing. While police spoke with Fabian early on in their investigation into Verk's disappearance, he claimed his girlfriend left his home early in the morning on October 12 and that he hadn't seen her since. Fabian's downstairs neighbors, however,
told local TV news
they could hear the couple arguing early that morning, including shouting and a loud thump followed by silence.
Early on in the investigation, police considered Fabian a very uncooperative person of interest in Verk's disappearance. Alpine Police Chief Russell Scown
had this to say
about Fabian as authorities searched for Verk's whereabouts last fall: "When you talk about all the hundreds of people from all over the state that are working actively to help solve this and bring Zuzu back to her family, and one individual that won't, one individual who happens to know her better than anybody else — that ought to tell you something, "
On Saturday, Alpine police confirmed that they'd arrested Fabian on charges of "tampering with or fabricating physical evidence by concealing a human corpse." Fabian's bail has been set at $500,000. Authorities say that if he posts bond, he'll be required to check in daily with the Brewster County Sheriff's Office.