Paletas are by no means new to San Antonio. El Paraiso Ice Cream has been cooling down palates (and heating them up simultaneously with the Lucas-laced pops) since 1984. The process of making these sub-zero treats is relatively easy, and the advent of real ingredients in everything has thankfully dripped into paletas. With the addition of
SA Pops
(3420 N. St. Mary's St., 210-882-8903) in 2013 and now
Paleteria San Antonio
(510 S. Alamo St., Suite 104, 210-954-6753), which officially opened its doors on June 7, it's increasingly hard to navigate SA without stumbling on paletas in all sorts of iterations.
Here's where you can get your fix these days: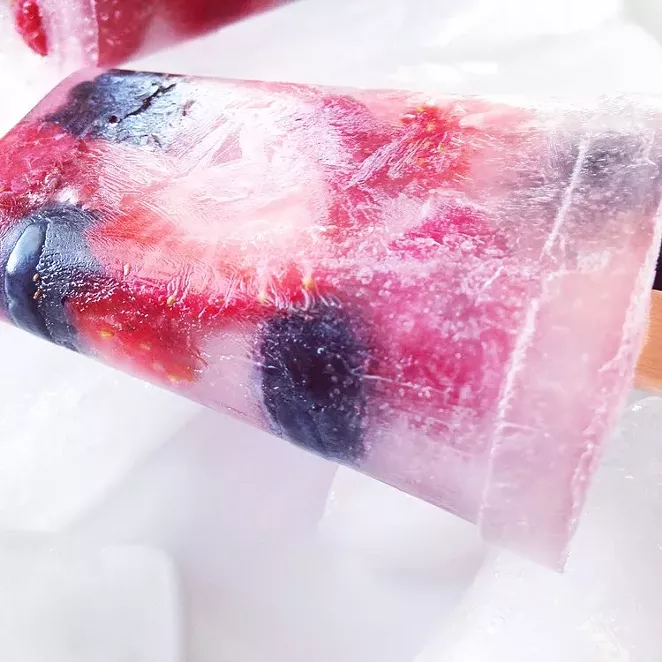 Facebook/WaterBar Company
Farmers Market Cool Down
Head to the
78209 Farmers Marke
t (1800 Nacogdoches Road) on Sundays 10 to 2 p.m. and get a refresher from the
WaterBar Company
. Owned by market organizer Stephanie Guerrero, the infused water booth launched in February. They cater to weddings, parties, events and corporate clients with infused H20, but come weekends Guerrero and co. add all-natural popsicles, such as watermelon, limeade, mangonada and hibiscus tea, to their lineup. Sweetened with either small amounts of raw turbinado sugar, agave or coconut sugar, the popsicles are $3 each and change seasonally. A recent market favorite has been seasonal sliced seasonal fruits combined with coconut water. Guerrero shared her recipe below:
Purchase home molds from Walmart, Target or a Dollar store
Fill each mold with 4 ounces of coconut water or coconut flavored water (Mix it up with coconut with lemonade, pineapple, açaí, etc…)
Stir in a tiny pinch of sea salt.
Add fresh asorted fruit cut into pieces for each mold. Freeze for 8-10 hours.
Remove popsicles and enjoy!