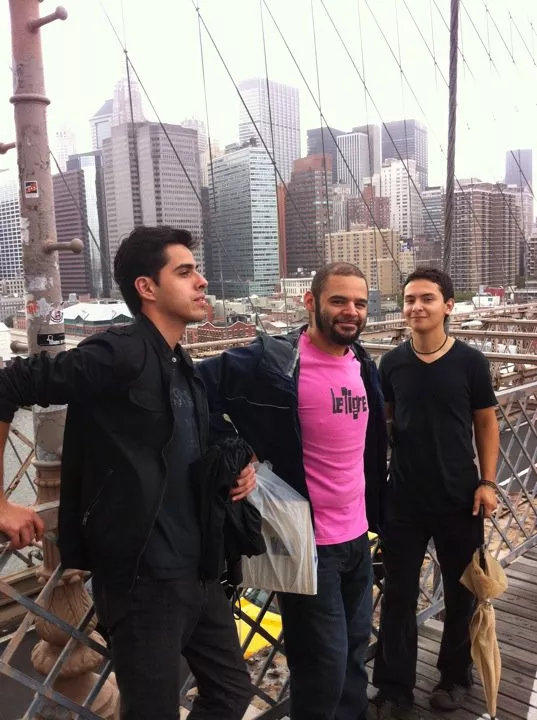 This week, I had the opportunity to catch up with Pop Pistol bassist George Garza about the band's recent Midwestern/East Coast tour, which included notable stops in Chicago, Kansas City, Brooklyn, and more. One of the highlights for Garza was playing a large outdoor stage in the Kansas City Power and Light District, a vibrant, nine block neighborhood with more than 50 restaurants, bars, shops, and venues.
Though they love the Midwest, Pop Pistol is proud to call San Anto home. The band drove all night after an end of tour gig in Hot Springs, Arkansas and made it back in time to play a slot at last Sunday's Un Domingo de Paz. The event, held at Sam's Burger Joint, celebrated Domestic Violence Awareness Month and peace in our community.
Pop Pistol will be part of another community building event this Saturday, October 9th in the Guadalupe Arts District — they take the stage with Bombasta, Piñata Protest, Diego Bernal, and more for Una Noche De La Gloria. More than 200 local artists, filmmakers, designers, and writers will perform or show their work at the free event, which runs from 6-9 p.m. at the Plaza Guadalupe.
What were some highlights from the tour?
All the shows felt different. I remember playing in some dive bars, and also in some small college towns that weren't super packed or anything. Some weren't our typical crowd, but we got a good reception everywhere we went.
One of the highlights was playing in Kansas City, on a big outdoor stage. The show was in the middle of downtown, in an area called the Power and Light District. It was like playing in an open air mall, but there were no shops — it was two stories of bars all the way around, and you had to be 21 to enter the grounds. The main stage is in a big plaza-type area, and it was definitely the biggest stage that we had played on. There must have been about a thousand people going through there. The stage was huge and lit up, a big spectacle. It was really intense to look out and see that you're surrounded by all these lights, movement, and definitely a lot of people.
We also liked the Trash Bar, which is a dive in Brooklyn that was really fun. There were only around 30 sweaty people there to watch bands, but they were all there early. It was interesting to see people showing up early, ready to watch live music starting at 8 p.m. In San Antonio, a lot of people won't go out 'till after 11 p.m.
You played Un Domingo de Paz right after driving home from the tour. How was that?
We played in Hot Springs, Arkansas on Saturday. We left the club after the show around 1 a.m., started heading back, and I guess we got into town around 11:30 a.m. We stopped by our houses real quickly, went out to eat some Mexican food, and then we were at Sam's Burger Joint by 2 p.m. to play at 4 p.m.
Is it important to the band that you play these types of events?
We're big on community, and it feels good to play shows where there's so much positive energy. This particular one was part of the Local 782 annual event, which calls attention to the fact that October is Domestic Violence Awareness Month. We like getting to know these people and our community. Also, every audience is new to us. Playing for an eclectic audience at these types of events is definitely important to us, because we feel like we have a sound that's open to all generations. We like to play all ages shows as often as we can, because kids need to be exposed — we all started wanting to play music when we were young. It's cool to get out there and play for an older crowd too, like grandparents, or adults who don't really go out to venues on the strip. It's a different experience than just limiting yourself to a bar crowd, and we feed off that.
What can fans expect from Pop Pistol in the coming months?
We haven't really announced it much, but we're definitely going back in the studio. We're doing a new record and plan to have all the recording done before the end of the year. It'll be five or six songs, maybe more, we'll see how well things go. We have a lot of music that we've been working on, but we know that we want to get something out soon. We're also looking at another tour soon, probably at the end of November or beginning of December. We really enjoy the Midwest. We want to go back there as often as possible and just continue to branch out.
Below, Pop Pistol playing live in the Kansas City Power and Light District on Friday, September 24th.