Courtesy of Pop Pistol
For any serious collectors of SA music, 'Angelus' is an absolute essential.
Chances are, if you have been following local music with any sense of devotion or thoroughness at all over the last ten years, you have encountered Pop Pistol in some manner. The veteran three-piece's music is as memorable and engaging, as present and open-hearted as its members: Alex Scheel (lead vocals, guitar), George Garza (bass), and Jorge Gonzalez (drums).
Since its beginnings back in 2005, Pop Pistol has brought an earnest and exploratory passion to its work, a curiosity and a singular sense of journey that is especially inviting to listeners. While the past several years have seen the band take a backseat to its members' various other projects and personal lives, the trio of close friends continues to work together at a natural pace.
On Wednesday, the boys will come together to commemorate the ten-year anniversary of Pop Pistol's debut album,
Angelus
.
It's an excellent album and one that has aged remarkably well. I mean, how many local bands do you know that would even
want
to revisit their debut album?
Angular, knotty, and anchored by pop-rock instincts, like so much of the best and most enduring alternative rock music, Pop Pistol's body of work, starting in earnest with
Angelus
, is also thoughtful, patient, expansive, droning, and warm/organic to the touch.
While I would argue that 2012's
Animal Prisms
is the band's magnum-opus-to-date, the seeds of that album, with its perfected electro-acoustic hybridism, uncanny sense of sonic space, and emotional immediacy balanced by spiritual distance, were already clearly germinating on
Angelus
. Pop Pistol is, that is to say, a band that has, more than so many of its peers, had a unique identity and vision from the very outset of its odyssey.
Courtesy of Pop Pistol
Pop Pistol back in the 'Angelus' days.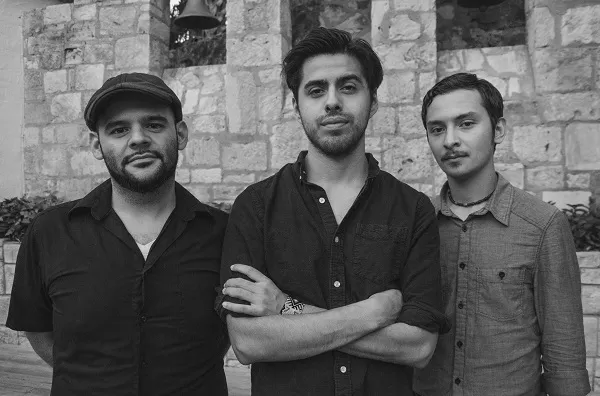 Courtesy of Pop Pistol
Pop Pistol now.
Speaking to the
Current
last week, all three members of the band expressed that they are still quite happy with the album, all things considered.
"I can hear all the flaws and limitations, but I am also impressed by what we accomplished at the time," said Scheel. "Revisiting the album is like revisiting an older version of ourselves, which can be a little uncomfortable, but is also worthwhile and necessary on our journey of self-acceptance."
After joking that he could hear how green he sounded on the bass, Garza echoed Scheel's sentiments. "I'm really proud of that album and of the people who made it happen, the people we were and the people we have become... It was a big deal for us," he said.
For
Wednesday's special show
, at which Pop Pistol will be the only live band to play (DJ Rise will spin before, after, and between sets), the trio will attempt to faithfully recreate
Angelus
from start to finish, before offering up a set of assorted non-album material.
It's an endeavor that seems one part exorcism and one part celebration, and I couldn't help asking if it might be a necessary precursor to finally hearing some new Pop Pistol music.
Garza was a bit coy in this department, but both he and Scheel indicated that work on new songs is already underway, even if a proper album may not be the goal or the result.
For now, let us appreciate this occasion for what it is: one of our city's best bands revisiting the album that introduced them to so many of us. Fans who have been there since the beginning will not want to miss this show — we could stand to reconnect with our former selves too, you know — and younger local music aficionados should see it as a unique opportunity to revisit an SA indie classic.
Adding gravity to the whole affair, the show will be professionally recorded (sound and video) for posterity. If the evening and the recording both go well, there are tentative plans to put out some sort of video release to document the experience of the anniversary celebration.

Pop Pistol
$5-$8, Wed., Nov. 21, 10pm, Limelight, 2718 N. St. Mary's St., ticketfly.com.


Get our top picks for the best events in San Antonio every Thursday morning. Sign up for our Events Newsletter.