Tinta roriz, aragonez, trincadeira, periquita … the names fall trippingly off the tongue, but their meaning is altogether obscure to even some of the most sophisticated wine drinkers. Port aficionados who have been paying attention, however, will have a leg up on the competition, for many of these grapes are the same ones used in the production of the fortified libation that says chocolate to some, cigars to others.
Neither vice was present at Omniboire's recent symposium in the wine cellar at Zinc; we plumbed these typical, Portuguese red grapes in their straight form — and were pleasantly surprised for the most part.
"I thought they would all be light, but these can be good, everyday drinking wines," observed Mary Martini, director of Central Market's cooking school.
"I was impressed," confessed Peter Fitzgerald, Boudro's (formerly Zinc's) bartender.
The only panelist with much experience of Portuguese reds, Felicia Gonzales of Serendipity Wine Imports, allowed that one "would have to develop a palate for them. They're individual and unique — though with some elements of Spanish wines."
Only five out of nine wines tasted made the 13/20 point cutoff; unfamiliarity, we suspect, may have had something to do with the low number. There is an especially good selection of Portuguese reds at Central Market, however, so lack of availability can't remain an excuse for long. (Ask for Heidi; she has a handle on them.) But we all found the palate-cleanser wine to be unexpectedly intriguing. It didn't get scored, but the 2006 Quinta do Ameal Loureiro Ponte de Lima, a "branco seco" (dry white) vinho verde, possessed mineral, green almond, fresh fig, and other distinctive, floral notes. The Portuguese whites, many made from grapes such as the loureiro above, might be an even easier introduction to the county and its wines than the "individual and unique" reds — not that the whites are copycat versions of chardonnay or sauvignon blanc. Besides, summer is a comin' in.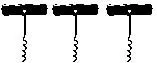 2005 Niepoort Vertente Douro DOC
, $37
Blackberry, blueberry, earth, and violets
Blackberries on hot rocks, said Gonzales, who also found "nice earth and a little coconut." Fitzgerald detected blueberry, lavender, and violet. "Bubble gum," sniffed Martini, but "lots of fruit and tannins." Omniboire found this one to be the most "modern" of the batch, with serious oak and tobacco.
2006 Quinta do Crasto Crasto Douro DOC
, $20
Port-like with cassis and deep berry flavors
Fitzgerald pegged this wine as being the "most Port-like," finding candied cherry and strawberry. "Warm baking spices with a smidge of violet and cocoa," said Gonzales. "Balanced, complex, and better each time I visited it," mused Martini.
2004 Quinta do Quatro Ventos Vinho Tinto Douro DOC
, $29
Big, oaky, and Bordeaux-like
Tinta roriz, touriga nacional, and touriga franca were the holy trinity in wine number three, which scored well despite comments such as "lots of alcohol and tannins … the fruit got lost" (Martini). "Overdosed on oak … people who like big wines will like this," said Gonzales. "Powerful, like a left-bank Bordeaux … not a friendly wine, though," though Fitzgerald. "You could sit down with a cigar, but not food," summed up Gonzales.
2005 Lavradores de Feitoria Vinho de Quinta SA Tres Bagos, Douro DOC
, $19
Initially awkward and barnyardy; matured to deep fruit and chocolate
Both Gonzales and Fitzgerald found barnyard aromas in the number-four wine—"but in a good way, like an Oregon pinot noir," added Fitzgerald. "Balanced nicely, like a big leather chair,"
opined Martini. "Lacks balance," countered Gonzales, "but makes up for it in silky intensity and friendly flavors." Omniboire found the wine awkward at first but much improved on retasting.
2005 Aliança Foral Reserva Douro DOC
, $10
Black fruit, coffee, bitter chocolate, with long finish
That the number-five wine actually made the cut despite a noticeable corkiness is testimony to its inherent quality. Look for the 2005 Alianca Foral Douro to perform even better when you try it. "Good for pizza," thought Fitzgerald, damning somewhat by faint praise. "Aromas of anise and mulberry with light fruit — cranberry," offered Gonzales. Martini was back in her leather chair, but this time it wasn't as comfortable: "Bad leather, old cigar smoke," she said. This time Omniboire won't play Pollyanna; we found the eau de sweat sock too distracting to have much of an opinion. •