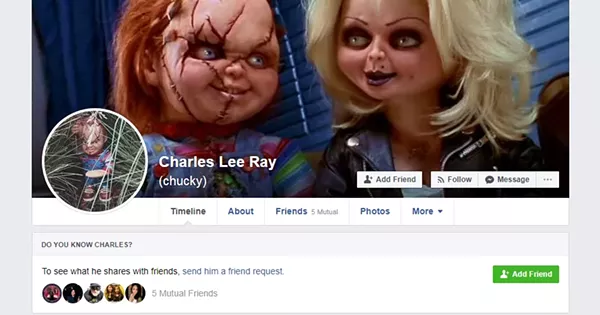 Staff and regular patrons from Southtown 101 might want to rethink clicking on the "Accept" button for any recent Facebook friend requests they've received. Unless, of course, they want to be BFFs with a crazed killer.
On Tuesday night, someone stole the bar's Chucky doll, which was placed inside the venue as Halloween decor. Chucky is the main character of the horror movie franchise Child's Play, which first hit theaters in 1988. Since the original film, the series has gone on to spawn six sequels, including last year's Cult of Chucky.
The following night after the "theft," the stolen Chucky doll, who is possessed in the movie by a serial killer named Charles Lee Ray, started sending out Facebook friend requests to Southtown 101 staff and regulars.
"I was like, 'What the heck!'" said bar manager Roxie Monroe. "I laughed and accepted the request to see what this was all about."
Bartender Chastina de la Peña also received a friend request on Facebook. She thought the prank was clever and hilarious. She said she liked Chucky being in the bar (she took a photo with him the day before his kidnapping), but admits she needed a break.
Courtesy of Chastina de la Peña
"That little shit was always getting in my way," she said. "But, hell yeah, we want him back!"
Since disappearing from the bar, Chucky, who is using his Charles Lee Ray moniker on Facebook, has managed to make 28 friends. Yesterday, he posted: "I'm your friend till the end. Hidey-ho! Let [sic] party. I'm free bitches!!!" He also posted a photo of him and his bride Tiffany.
With Halloween right around the corner, the mystery continues at Southtown 101.
"I guess we will have to wait and see what Chucky posts next," Monroe said.
Stay on top of San Antonio news and views. Sign up for our Weekly Headlines Newsletter.