The low-down on this week's premieres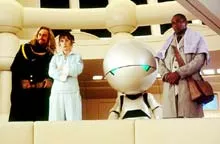 Martin Freeman and Mos Def struggle to bring the late Douglas Adams' sophomoric, precocious space epic, The Hitchhiker's Guide to the Galaxy, to a big screen near you.


Hyped as the greatest adventure off Earth,
The Hitchhiker's Guide to the Galaxy
is a sci-fi comedy based on the book of the same name by the late Douglas Adams, who is also credited as screenwriter for the vast voyage. After he discovers that Earth is going to be demolished by aliens to make room for the construction of a super freeway, Arthur Dent (Martin Freeman) is picked up by his intergalactic best friend Ford Perfect (Mos Def) moments before the planet is destroyed. Originating as a 1978 radio adaptation,
Galaxy
also escaped the page as a 1981 television show and a 1984 computer game. The film proves that road construction in the future will be just as irritating as the current mess on IH-10.
Replacing Vin Diesel (XXX) with Ice Cube (Are We There Yet?), XXX2: State of the Union dispatches another secret agent, this time to stop a military group led by George Deckert (Willem Dafoe) from overthrowing the U.S. government. Guess the rapper that once sang "the man in me is ready for war, like Holyfield/Tyson IV" is actually a diplomat.
Written and directed by David Duchovny (Playing God), House of D (the name of a detention center where one of the main characters is incarcerated) is a coming-of-age drama starring Duchovny, his real-life spouse Tea Leoni (Spanglish), Erykah Badu (The Cider House Rules), and Robin Williams (Good Will Hunting), who plays a mentally challenged janitor. With three whole X-Files directorial credits under his belt, its seems Mulder jumped into this project faster than he used to jump into bed in Red Shoe Diaries.
Follow the money trail, or lack thereof, into Texas for the documentary Enron: The Smartest Guys in the Room `see "Greed always plays as a tragedy" in this issue of the Current`. Although praised for being intelligent, these Lone Star liars must have earned some pretty low marks in Accounting 101.