Bummer! All girl fucking punk band Lisa Frank are taking a "long break" according to their announcement at last night's show opening for Japanther. That was the only sour note in an otherwise excellent night of music at the 1011 from both predictably unpredictable Brooklyn duo Japanther (crowd-surfing half-a-song in is always a good sign,) and local support groups Sticky Bandits, Lisa Frank, and Xry. (Erekcludi, if you played first, we missed you. Sorry! Can't wait to see you in full force.) Lisa Frank fans still have one shot to see the group before they disband indefinitely. The group will play a house show Weds. 9/22 with a bunch of music friends. See
their website
for more detail. Easily my favorite band to reference my favorite parts of middle school: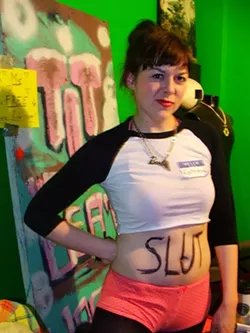 Bikini Kill! (Or, Bree Davis from Denver's Night of Joy, dressed as Kathleen Hanna)
I'm obviously a little sad that the members of a fairly young, really good band are calling it "quits," or hiatus, or long break, or whatever. And let's not forget that, even in 2010, women are vastly underrepresented in music. Especially here in San Antonio. I'm not just talking about girls in bands, but girls who go to see bands. Groups like Lisa Frank, Heather Goes Psycho, and Girl in a Coma not only rock, but encourage other females to rock too, whether on the stage or in the audience. The group didn't elaborate on their choice to stop playing other than that they're "really busy," a reason we all use sincerely from time to time. But still, just one week before the release of
an amazing book on Riot Grrrl culture
, it's sad to see one of the most promising local bands to carry that flame voluntarily put down the torch. Pray to your Trapper Keeper that it somehow ends up being a temporary break.