Guinness float (left) and Jameson Shamrock Shake (right).
I recently watched a group of bar-goers down delicious Irish Car Bombs at Bootleggers. I left the bar with a crazy craving for both Guinness and Jameson, but since I'm not about to start taking shots at home, I decided to sneak the booze in via dessert with a Guinness chocolate float, a Jameson Shamrock Shake and a Black Velvet champagne cocktail.
Root beer is great and all, but Guinness just takes this float to another level. Instead of being painstakingly sweet, the Guinness mellows out the ice cream for a richer experience.
Guinness Chocolate Float
3-4 scoops vanilla ice cream
1 (11.2-ounce) bottle Guinness Draught
1 tablespoon chocolate drizzle
Scoop vanilla into a chilled glass. Pour Guinness over ice cream (it won't all fit at once). Drizzle with chocolate syrup or hot fudge. Enjoy.
Personally, I don't get the shamrock shake craze. They're not that great...but Jameson makes everything better.
Jameson Shamrock Shake
4 scoops vanilla ice cream
1/4 cup milk of choice
2 tablespoons Jameson
5 drops green food coloring
1/4-1/2 teaspoon mint extract
Whipped cream, for garnish
In a blender, combine ice cream, milk, Jameson, food coloring and mint extract. Pulse for 30 seconds. Pour into chilled glass. Garnish with whipped cream.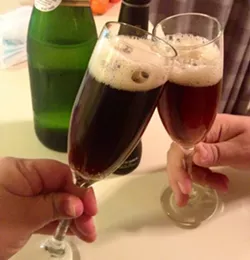 Sláinte!
This one's for the bubbly fans. Part Ginny, part champers, 100 percent tasty.
Black Velvet via Guinness-storehouse.com
1/2 flute Champagne or bubbly of choice
1/2 Guinness Extra Stout
Pour into flute glass and enjoy.