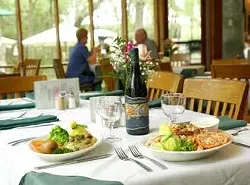 From left: Talapia with white wine and mushroom sauce, served with new potatoes and steamed vegetables; Crumpets special salad - mixed greens with charbroiled chicken, Canadian shrimp, pecans, and a creamy house vinaigrette.
Release Date:
2003-05-15
Dear Francois,
It was a pleasure talking to you at dinner the other night. It's hard to believe that it has been 25 years or more since our first encounter at the long-shuttered Alamo Fish Market and Bakery. Your bakery operation there really opened some eyes; little did we know it was just a taste of what was to come at Crumpets a few years later.
Crumpets, too, set some new standards for San Antonio. I remember being thrilled by the exotic touch of tarragon in the whipped vinaigrette, seduced by the salade niçoise, and beguiled by the green peppercorn Cognac sauce that napped a filet of beef tenderloin. Croissants in the breadbasket were a novelty, too - at least then.
Now, of course, the dressing has been copied by many a lesser light, the green peppercorns that were new to our palates have faded from favor, and fast food joints have co-opted the croissant. Or at least a version of it. Maybe it's revisionist history on my part, but your own niçoise seems to have faded a tad, too. Could be I'm misremembering real niçoise olives and crisp, brilliantly green haricots verts, but I was disappointed to find black, California olives (and no green beans) in the salad at lunch recently; as much as California would like to be Provence, these olives won't help their cause, and they especially don't belong here.
Which brings us to a topic we didn't discuss. Your press release on the occasion of Crumpets' 23rd anniversary makes the perfectly reasonable claim that "resisting culinary trends in favor of traditional cuisine is responsible for the restaurant's longevity" - and certainly 23 years merit a round of applause. Bravo! You go on to say that "the key to our staying power is that we cook to please our customers, not the outside experts ... it's hard to argue with beef tenderloin with béarnaise sauce, chicken chasseur, and fresh seafood!"
In theory, yes, but this outside expert nevertheless has a bone to pick, and it has to do with staying truly faithful to tradition. We can start with the pâté maison: Francois, it was frankly unworthy. The texture was unpleasantly grainy, the taste more of fillers than fowl liver, pork, or veal with cream and Cognac. (The truffled mousse that came with the 23rd Anniversary Special was actually better, and I assume it to be a packaged product.) My rack of lamb, on the other hand, was simple but proper - cooked exactly to the ordered rare-to-medium-rare. The anticipated garlic wasn't much apparent in the mustard/rosemary crust, but in all, this was a good cut of meat not diminished by fussy preparation - a triumph of tradition, in other words. But the chicken chasseur - one of the traditional dishes it is hard to argue with - was far less favorably received.
To start with, it was more springy than spring-like. The texture might have been excused, I suppose; it was the sauce that was the unfortunate element here. Yes, there were fresh mushrooms, but the fresh tomatoes and scallions - which would have lightened things up considerably - were shy to the point of no-show. It's true that a chasseur sauce might start as simply as a chicken poached (in the purloined sense) and a few mushrooms gathered by the hunter of the title, who, in the romantic image of things, would then proceed to sauté both with butter and perhaps a little tarragon. But this sauce had none of that elemental appeal; it was neither rustic nor refined.
Elemental, of course, is not always appealing; but let me digress a moment. Another of your landmark contributions to San Antonio cuisine is your crusade for heart-healthy cooking. And though the zeal of, oh, a decade ago isn't as apparent on the menu now, the ostrich filet does remain as a low-fat, low-cholesterol option. I can only guess that the treatment of the vegetables that accompany the entrées is a vestige of that campaign; they are impeccably steamed and, with the exception of a hint of hollandaise on the asparagus at dinner, have no detectable seasoning or sauce at all. Perhaps I'm being overly fussy here, but a whiff of olive oil, a whisper of melted butter, a drift of dill ... anything would be welcome and would keep red potatoes, carrots, and snap peas from seeming so dutiful. Just to see what a traditional French chef would do, I checked Roger Vergé's Vegetables in the French Style. For snap peas, "All you need to do is snip off the ends, cook them quickly in boiling, salted water, and serve them with butter salt and pepper," he says. Simple, traditional, but, at least, not boring.
I returned at lunch, after our conversation, to see whether the execution at that time of day was a little livelier (niçoise notwithstanding) and was encouraged. The vegetables were effectively the same (and the salad was a little more casual), but my daily-special selection of roast pork loin with red wine pâté sauce actually had spunk. The sauce had the feeling of having been done from pan drippings, not a thickened broth, and the pork was perfectly moist and tender. Specials, it seems, give the kitchen a little leeway. Which brings up our conversation about gourmet raft trips on the Rio Grande in Big Bend about 10 years ago. I recall vividly the character of the cuisine; the food exceeded every expectation. Maybe it was your experience as a gold miner/lumberjack in Canada coming to the fore, but there was a real zeal expressed in such fireside preparations as marinated quail and, if I remember correctly, grilled veal chops - all served with wines that tasted much better in context than any wine by the glass on today's menu. You were into food in the wild in a way the restaurant never has expressed. I suspect that the entire kitchen staff needs to do one of these trips to get re-energized.
To wind things up, there is dessert - one of your justifiable claims to fame. Although it lacked the abundant strawberries of times past, the Crumpets' Delight was still just that - delightful. You admitted not having read this column, so you don't know of my tirade about too-cold cakes, but I'm going to say the same thing regardless about the Grand Marnier cake: It would be great if it were a little warmer upon serving. The same would be true of the Swiss chocolate cake sampled at lunch - except the chocolate transcended cold in a way butter cream never can.
Francois, I'm sure some of your long-time patrons will disagree with much of what I've said - as well might you. But please know that as an outside (presumed) expert, I'm eager to see you retain both your personal spirit and the integrity of your traditional cuisine. If that requires spending more time in the rough-and-ready, so be it. Please just translate some of that vigor to the plates on Harry Wurzbach; traditional doesn't have to mean tired, and you are the best man in town to make that distinction clear.
All best regards, Ron