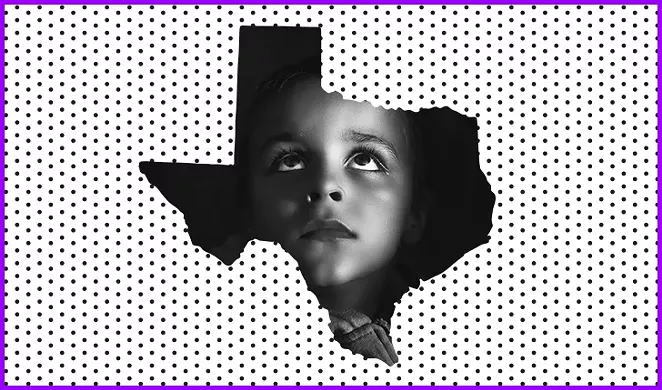 Shutterstock, Sarah Flood-Baumann
In the face of Texas' foster care crisis, Texas lawmakers seem to have thrown up their hands.
On Thursday, members of the Senate Committee on Health and Human Services heard five hours of testimony from judges, family advocates, foster parents, and social workers on a sweeping bill to reform the state's Child Protective Services program. While most embraced the state's interest in revamping CPS — an overburdened system found guilty of
ignoring thousands of at-risk foster kids
— many raised concerns about one of the bill's promises: Handing over a foster child's rights to a private contractor, instead of a state caseworker.
"What public case management is all about is making sure what happens is in the best interest of the child, not the private company," said Scott McCown, a former state judge who now leads UT School of Law's children's rights clinic.
When a foster child appears in court, they are represented by what's called a Permanent Managing Conservator — a family friend, relative, foster parents, or often, a state caseworker. Someone who is solely looking out for the kid's best interest. Under
Senate Bill 11
, however, this role would be handed over to a caseworker who's employed by a private organization (still a professional social worker who knows the child, but not working directly for the state).
Child advocates fear these contractor's financial interests would seriously influence the PMC's decision-making, especially in a case where a kid could return to its parents and no longer need the PMC's representation.
"A private contractor will either be making money or losing money on the decision it makes for the child in court," said McCown. "That is a serious conflict of interest."
State caseworkers, on the other hand, aren't paid by the number of cases they have or retain — making them an unbiased representative for the child. Sen. Charles Schwertner, the bill's author, sees it differently.
"Caseworkers right now aren't always incentivized to do what's in the best interest of the child — they're incentivized to close cases," he said. Schwertner believes bringing in experienced caseworkers from the private sector could expedite the state's CPS court-ordered cleanup. As of now, little has been done to address
a year-old ruling
from Federal Judge Janice Jack demanding an immediate solution to the state's crumbling — and abusive — foster care program.
With this transfer of power from public to private, SB 11 would cost many state-employed caseworkers their jobs. But Schwertner said it shouldn't be a problem. "Maybe they're excited to leave the state and finally have an opportunity to do their job well," he quipped.
Sen. Lois Kolkhorst agreed with Schwertner, not hesitating to admit that state government isn't great at its job.
"The government does not innovate well," she said. "I don't know why...but we don't move in that space well."
It appears lawmakers are trying to make their problem someone else's — and the rights of Texas' most vulnerable kids may (continue to be) on the line.