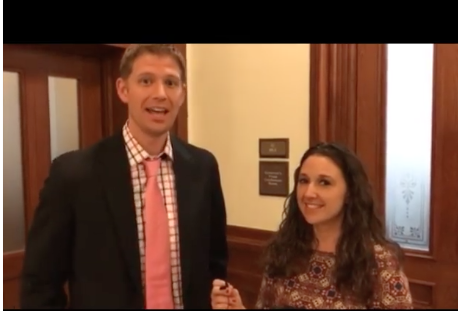 Rep. Matt Krause and Texans for Vaccine Choice organizer Jackie Schlegel discuss the bill.
The House committee heard testimony Tuesday evening on a bill that would make it easier for parents to keep their kids from getting vaccinated. The bill, proposed by conservative Rep. Matt Krause, would expedite the process for parents seeking vaccine exemptions.
The bill would require the state to provide blank immunization exemption forms on the Texas Department of State Health website, and for public schools to do the same. Currently, parents must give the DSHS personal information about their child (like name, birthdate, address), wait a week or so for the form to arrive in the mail, and then turn in the notarized DSHS form to the school district.
According to Rebecca Hardy, the director of state policy at Texans for Vaccine Choice, the current process is "lengthy, needlessly intrusive, often confusing," puts "undo burden on parents," and results in children missing school because of the "flaws in the system."
Vaccination requirements are a hot topic this session for both sides of the issue. Earlier,
representatives debated HB 2249
, which would require public schools to share how many of their students are not vaccinated. Parents who support the bill say that this information could determine where they enroll their kids.
At the Tuesday hearing, DSHS commissioner John Hellerstedt shared his concerns about unvaccinated kids. "I have no doubt that immunization is beneficial to individuals and communities," he said. "The immunization status of the group of people you spend time with directly impacts your health, and visa versa."
Currently, the state of Texas requires public school students to be immunized against deadly diseases such as measles, polio, hepatitis A and B, and meningococcal. Thanks to the development of vaccines,
2.5 million
children are saved from preventable diseases every year, and childhood death from measles vaccine has decreased by
74 percent
.
Despite the benefits of vaccines, rates of unvaccinated children in Texas have dramatically risen. In 2003, 2,300 children were granted non-medical exemptions for "reasons of conscience." Figures from the Department of State Health show that today, Texas has nearly 45,000 kids holding exemption slips.
While vaccine opponents argue that immunization should be a personal—not a state— decision, it is not one that occurs in a vacuum. When vaccine rates stay above 95 percent of the population, those who are not old enough or are too sick to receive vaccines are protected from infection. But
when vaccination rates drop below 95 percent
, the sickest among us are at risk for those vaccine-preventable diseases, like measles. Dr. Peter Hotez, a pediatrics professor at Baylor College of Medicine,
warns that Texas is on the brink of a measles outbreak
, and as exemption rates rise, so does everyone's risk of getting the disease.
And one of the best ways to prevent the outbreak,
like the one that occurred in California
, Hotez told KUT, is to "absolutely eliminate all the non-medical exemptions."