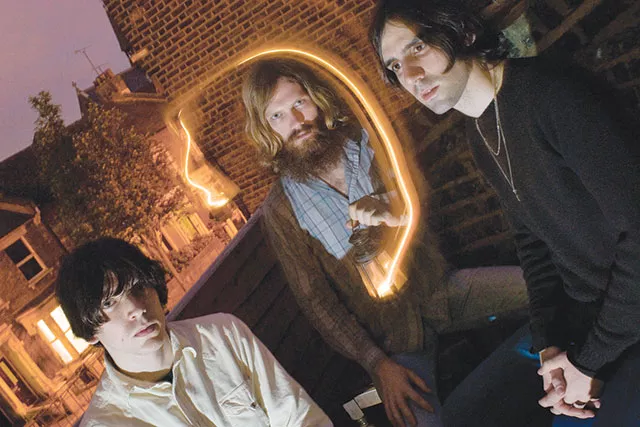 Courtesy photo
Dead Meadow comes out of the Warble Womb to play SA
Like hardcore pioneers Minor Threat before them, psych-rockers Dead Meadow arose as a reaction to their D.C. environment. But where Ian MacKaye and D.C. punk defied the Reagan-era vibe of the nation's capital, Dead Meadow branched out against the MacKaye-soaked music establishment itself, opting instead to slow down, space out and get weird.
"We grew up playing punk rock in the D.C. scene," Dead Meadow singer and guitarist Jason Simon told the Current over the phone, "but it reached a point where it became oversaturated with that kind of music. We wanted to do something different, so we got back into bands we all liked growing up: Led Zeppelin, Hendrix, Sabbath. It just felt right, like, 'Let's do something completely different than what's around. Let's get stoned and into long jams and try to do something expansive that can capture the imagination in a way that those bands did for us—try to paint dark, long, moody pictures in your mind.'"
With that manifesto, Simon, bassist Steve Kille and drummer Mark Laughlin set out in 1998 to channel their stoned idols, emerging two years later with a self-titled debut release, a blues-drenched, home-recorded and energetic album—the type that only comes from an inchoate band sure of what they want. Nuggets-era jams seep from 2000's Dead Meadow; long, winding directions in music that pull heavily from the blues-based, psychedelic Texas innovators the 13th Floor Elevators.
"I'm a huge Elevators fan," said Simon. "To me that's The Great Psychedelic Band of All Time. I love [Elevators' guitarists] Roky Erickson and Stacy Sutherland. You could hear these blues guitarists, feeling that tradition in their music, but then being pushed out in these new ways. I really dig music where you can feel that push and pull—you can almost feel the tension of stretching that tradition."
Remaining true to Elevators' custom, Dead Meadow's sixth and most recent studio release, Warble Womb (2013), finds the band searching in a psychedelic, blues-rooted vein. It's an engaging mix of acid-to-the-head guitar trips atop a grounded rhythmic base, stretched out over an ambitious 15 tracks.
But unlike the free-flowing energy surrounding the trio's debut album, Warble Womb presents a challenge of experience, responding to a creative process that is no longer new.
"On the first one, things were so fresh," said Simon. "Dead Meadow was done like that, recorded in my parent's basement, all live except for the vocals." For Warble Womb, the band faced a challenge familiar to veteran artists: whether to respond to their library of work so far, or blaze new trails with the informed scope of a band 15 years into its career. "With Dead Meadow, we want to push forward with new ideas but not abandon everything that has come before. With each record, there's a push and pull ... that becomes a little trickier."
To add to the hitches of the sixth album, Warble Womb marked the official studio return of Dead Meadow's original drummer, Mark Laughlin. "Mark was on the first two records and left the band," said Simon, "actually, to be a lawyer in New York. A few years ago, [previous drummer] Stephen McCarty left. Just as a one-off, we asked Mark to come out and play a show in the desert. He did, and then said, 'I'm sick of New York, sick of my job, let's do this.'"
"There was definitely a little adjustment period," said Simon, "settling back in as a three-piece, especially the nature of how we play. There's a lot of room for stretching out and jamming and intuitive playing. It took some time before it all settled back in a new way." The adjustments resonate without a doubt on Warble Womb's first single, "1,000 Dreams," a can't-live-with-her-can't-live-without-her tale of love and woe that's tightly knit without losing the opportunity to explore psychedelic terrain.
Warble Womb also represents Dead Meadow's first yield in the studio since relocating fully to Los Angeles. While the move makes sense from an industry perspective, the environmental change has also benefitted Simon's writing style. "In D.C.," he said, "especially with lyrics or tones, the type of environment—East Coast, dense forests—more images come from that. In L.A., it's camping on the beach, camping in the mountains or camping in the desert."
With a radical shift in the reception of psychedelia—partially due to Texas' Black Angels and the annual Austin Psych Fest—the music has seen some extraordinary growth. "Without a doubt, it's become more receptive. The Black Angels have done a lot to promote the genre … making it bigger all around," said Simon. Despite that recent popularity, Dead Meadow's artistic vision remains true to its core.
"In the creative process, we're a band who likes to lock ourselves away and say 'Let's see what weird stuff we can make,'" said Simon. "In that regard, it hasn't really changed that much."
Dead Meadow feat. The Grasshopper Lies Heavy, Old and Ill, Mount Sherpa and DJ Smoak
$10
9pm Fri, Jan 31
The Ten Eleven
1011 Avenue B
(210) 320-9080
theteneleven.com