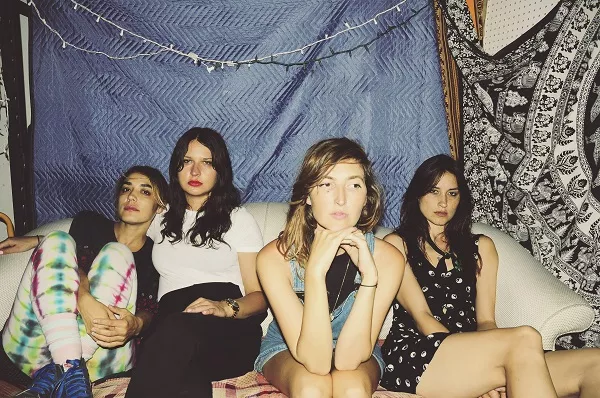 Photo by: Mia Kirby
Staring into the middle distance, Warpaint in repose.
It was announced today that Los Angeles-based art-rock/psychedelic dream-pop foursome
Warpaint
will make its San Antonio debut, at Paper Tiger, on September 23.
Warpaint, one of the more consistent, refreshing, and inventive bands to emerge from the hype pool of late-aughts blogosphere dotage, makes music that is equal parts sky and earth, blood and ether, mood and 'tude. Through the course of three excellent LPs and the fantastic 2009 debut EP that started it all, there have been four essential elements to the success of the band's unique sound: powerful, towering rhythms, a broad range of brooding atmospheres, penetrating and soaring vocals, and the paradoxical feeling of kinetic stasis.
On all of Warpaint's recorded efforts, which have taken on more polish by succession (though never in a bad way), the group showcases solid songwriting chops and the ability to stay fresh even while working consistently within a fairly specific art-rock niche. Part of what keeps the band interesting is that its songs are replete with psychedelic flourishes that play very well against the relatively traditional pop-rock framework of its songs.
In the live setting, especially, you'll find yourself surprised and mesmerized by how much heady heft and holy headspace this dynamo can squeeze out of its music.
Tickets to this show go on sale Friday June 16 at 10:00am
here
. Below, find something of a Warpaint primer for the uninitiated.
Warpaint
$20.00, 7:00pm, Sat, Sept 23, Paper Tiger, 2410 N St Mary's St, ticketfly.com.