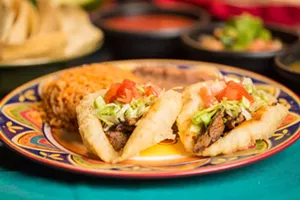 1. Henry's Puffy Taco
Multiple locations
henryspuffytacos.com
This puro San Anto institution shows no sign of being dethroned. Opened in 1978, Henry's Puffy Tacos has two locations to serve up signature puffies delicately topped with various fillings — including shredded chicken, carne guisada, spicy beef fajita, chicken fajita and guac. And while there's no denying the puffy tacos place in our hearts — the eateries sell more than 1,000 of them on any given day — the iconic restaurant can also throw down when it comes to margaritas, both frozen and on the rocks. How else would you wash down a pair of these iconic tacos?
2. Ray's Drive Inn
822 SW 19th St.
(210) 432-7171
raysdriveinn.net
3. Teka Molino
Multiple locations
tekamolino.com