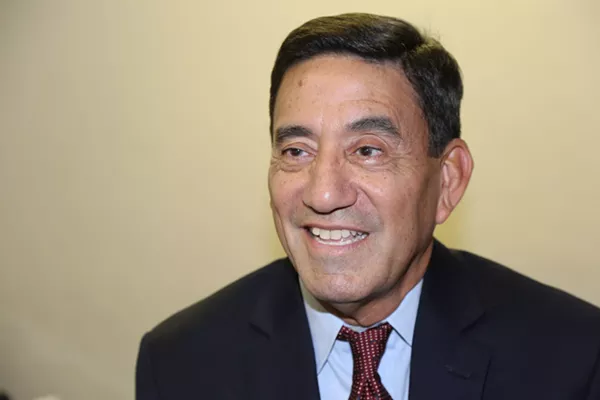 Courtesy of the Walter Martinez campaign
We continue our conversations with the candidates for the Texas House District 123 seat this week with a chat with Walter Martinez, former San Antonio councilman and former member of the Texas House of Representatives. Martinez formally announced his campaign today and faces former District 1 Councilman Diego Bernal and public relations and marketing consultant Melissa Aguillon in the race for the position vacated by Mike Villarreal, who is running for mayor. Gov. Rick Perry has yet to set a date for the special election to replace Villarreal, which means whoever gets the gig like won't start until after the legislative session starts on January 13, 2015.
You have a pretty hefty political background: you were a former San Antonio city council member and a former state representative. Why get back into politics and policy now?
The main reason I'm running for this office is because I believe we need leadership at the state level that can address the challenges of the community. I think my experience in the public sector, over 20 years, having worked at the state level and served on the local city council, gives me an ability to be able to address the major issues concerning our state. In addition to that, over 20 years of experience in the private sector, as a businessman, that's the experience I'm bringing. That background will give me a perspective that will be reflected in our platform, and that platform will be one that seeks to identify common sense solutions for the major issues confronting our state.
What are the major issues confronting our state, in your mind?
First and foremost would be education and to properly fund our public school system, provide funding so that our teachers can perform and do a good job. A second issue would be jobs and opportunity, and what I mean by that is that we have to update our economic development plan for the state. I think that my experience in business will help me in addressing some of the major issues that we'll be confronting in that arena. I would categorize in the broad category of health and human services. There are numerous state agencies that provide programs and services to some of the most vulnerable in our community, whether it's child protective services, senior citizens, nutrition and other health-related programs. Those are vital to our state and our local community and I would focus my attention to that. And finally, there's an issue that I have a lot of passion for and that's affordable housing. I've been active in preserving and developing affordable housing for the last 20 years, there's a continuing need statewide for affordable housing for working families and senior citizens. I think I can bring some expertise in that area. With that affordable housing, the whole issue about neighborhood preservation and revitalization is included.
What can we do on a state level in terms of affordable housing?
There are many public funds that flow from the federal government to the states and the state administers federal block grant dollars, and there's also an important program called the Low-Income Housing Tax Credit Program. Over $60 million a year in federal tax credits that the state of Texas can utilize to address housing in San Antonio, in south Texas and Eagle Ford Shale, in areas that are starving for affordable housing, and I think those are the areas that I can be helpful.
The Legislature and Texas political makeup has changed since you were last at the Capitol. Do you think you have a lot to catch up on?
That's one of the advantages I think my candidacy offers. Having worked in the Legislature in the past and having been elected in the past, I know how legislation is produced, as opposed to my opponents that have never served there. At the end of the day it takes building coalitions to address these issues, you need to be build consensus and reach out and work together. It's not a matter of liberal or conservative, voters want common sense solutions. I think I can help do that by reaching out on both sides of the aisle. I will lose no time at hitting the Legislature mid-session, there's no time for training ... since my past experience there and having been active in public service for 20 years, I have a lot of relationships up there with Legislature from south, central and west Texas.
Given the challenges we have in our state: public education, healthcare and transportation, how do you see yourself working with your colleagues to pass meaningful public policy?
People don't care, voters don't care about whether a vote is Democrat or Republican. They just need a vote. I don't think any legislator wants to keep someone from having health care. It doesn't matter what you call the program, whether it leans left or right. It matters what it can deliver. How do we deliver? We all want to provide the same thing from our constituents: that is to have an opportunity to have a job, to be able to get to work, and be able to have the health for ourselves, and health and safety issues addressed for ourselves and our families.
What distinguishes you from your opponents?
I can't say enough about the experience factor. Twenty years working in the public and private sector both at the state and local level, that's one of the major distinguishing point. Having that experience you bring a different perspective to the table, you understand what a small business goes through, meeting payroll, and understand working families. That experience level, with the help from the public, will help me in defining priorities and focusing on our basic needs.