Late last year, someone dubbed "Sexican" started following me on Instagram (NSFW) and liking my pictures. Populated by Photoshopped images of a topless Latina in cinematic situations (swimming with the Creature from the Black Lagoon, riding a dragon, seducing Mr. Spock aboard the Starship Enterprise), the unsurprisingly popular account (which boasts more than 20,000 followers) is the handiwork of Will Templin, a graphic artist and designer whose clients have included both the Democratic National Convention and Cornyation.
Templin's Sexican project picked up a different kind of steam when he met local artist Albert Alvarez through a mutual friend who noticed they were both "working on R-rated material" and suggested they join forces. After collaborating for four months, the duo published Sexican — a graphic novel filled with "232 pages of sensational stories of valor, stupidity and nudity." At times more X-rated than R-rated, the book opens with a photograph of a "smoking vagina" that Templin describes as "a modern interpretation of surrealist René Magritte — a shocking visual device that can act as a warning or an invitation, depending upon who the reader is." What follows is divided into 11 chapters inspired by both Templin's personal experiences and themes found in Alvarez's often haunting ink drawings. Announced by some of the chapter titles alone (Drugs, Why Sodomy Is Illegal, Hitler, etc.) Sexican is not for the easily offended. Bringing to mind a hybrid of an underground comic book and a filthy bathroom stall, Sexican's sick sense of humor rears its ugly head in Texcentric jabs like "Hitler's the newest Austin food truck experience" and "Dallas is where the Devil gets anal."
Bryan Rindfuss
Will Templin (left) and Albert Alvarez (right)
[Slideshow: A Peek Inside The R-Rated Graphic Novel 'Sexican']
So the words throughout the book, is that mainly Will?
WT: Yeah.
None of it's Albert's?
AA: A lot of it's just my art. I handed my drawings over to Will ... My art lends itself to statements.
Is there anything you don't agree with?
AA: Oh, Jesus. A lot of tearing up Austin and Dallas and stuff like that.
So, you really do dislike Dallas and Austin?
WT: Part of it is that there's a general animosity towards Austin from San Antonio, but it's not very creative ... So I was like, "Let's up the ante." If you're really going to make fun of Austin, let's at least do it in a way which is creatively mean.
The "Fresh Ebola BBQ Sauce" comic seems to drive home the point that nothing is sacred in this book.
AA: Yeah.
Has anyone been really pissed off by what you all have published?
WT: It's been weird. The reaction's been more positive from women than from men. We've sold more books to women.
War ... I clearly see a lot of that coming from your drawings, Albert. What's your fascination with war and combat?
AA: For me, what got me into it was just the way I do my art. It just feels like a barrage of constant pressure to stay alive and do something miraculous ... It just feels like life is a battle [or] a metaphor for battle.
Do you watch a lot of news?
AA: I like paying attention to the local crimes that are happening ... I'm more worried about my own surroundings than something that's happening in another place in the world.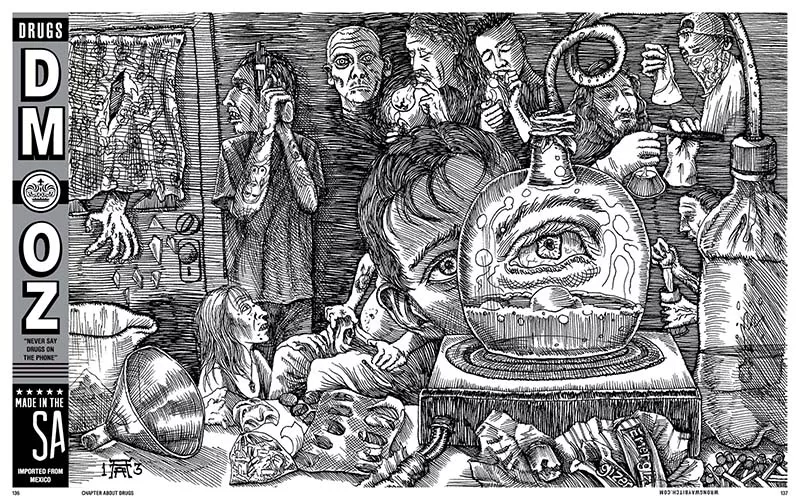 What about the typos? Do you need a copy editor?
WT: I do need a copy editor ... Most of the people I know who ... are good writers think that what I'm working on is creatively insane.
Do you know anyone other than the two of you who has read the entire thing?
WT: It's sort of designed for using the restroom — one chapter at a time.
So you want people to keep it in their bathrooms.
WT: It's a dirty book. It's not like there's an overarching narrative of redemption. I just wanted to interject some things so people can go through and see how brilliant Albert's work is. Literally every inch is just covered in detail. And it's things you've never seen before. Which to me, that's what art should be.
How would you describe this book to someone who has not seen it?
AA: Kind of like a graphic novel-looking thing. You know, it's got art surrounded by graphics and attention-grabbing topics. Reader beware. Will said a lot of that stuff. There's like one quote of me in there and I don't even think I said that.
What is it?
AA: "I like to paint steer, oxen and the occasional nude. To me, art is about the objectification of beauty." Something like that.
WT: You did say that. It was at like one in the morning.
How about you (Will)?
WT: It's San Antonio. That's the only way I can describe it. I was basically just trying to show ... through a creative way ... San Antonio — all of it. It's got The Alamo, the part of town that everybody wants to go to and the best artist from that side of the town.
How would you respond to someone who interprets parts of the Sexican project as misogynist or objectifying women?
AA: If people want to come off labeling my pictures and me personally as a misogynist or what have you, they're having a shortsighted interpretation of my pictures ... Sexican is an explosion with collateral damage, friendly fire. It's not a sentimental homage to Rembrandt, it's year 2015 X-rated entertainment.
WT: Most of the stories are cautionary tales of how men somehow think they are superior to women, but in the end this false belief gets the best of each protagonist, and turns them into a punch line. When I started this project with Albert, the last thing I wanted to do was glamorize doing drugs and prostitutes. However, those elements are in the book, because it is part of living on the South Side ... Sexican is an attempt to define where the modern line of decency exists in San Antonio in 2015.