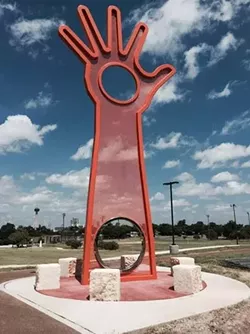 Courtesy
"Open Hand, Open Mind, Open Heart," by Douglas Kornfeld, is in honor of Dr. Martin Luther King, Jr.
Take a drive by Pittman-Sullivan Park on the East Side and you'll see a 32-foot tall, orange sculpture of an open hand, that's dedicated to Martin Luther King, Jr., looking toward downtown San Antonio.
The sculpture, called
"Open Hand, Open Mind, Open Heart,"
was created by Boston-based artist Douglas Kornfeld, who was selected by the San Antonio Arts Commission to create the original work as part of the 2012 bond Public Art Project: Eastside Parks.
Today, District 2 Councilman Alan E. Warrick II and San Antonio's Department for Culture & Creative Development dedicated the sculpture.
"Our center city is a gateway to surrounding neighborhoods filled with history, culture and the promise of a prosperous future. San Antonio's historic Eastside is a great example of this crossroads of history and progress," Warrick says in a press release, describing Pittman-Sullivan Park as an appropriate place since it serves as a community gathering place that also draws thousands of people each year to the city's Martin Luther King, Jr. March and commemoration. "This artwork beautifully conveys the history and significance of our Eastside."
Davis-Scott Family YMCA Board Member Bill Burman says he couldn't think of a better artist and sculptor to lead the project.
"Although Douglas Kornfeld is from Boston, he did not operate aloof from this community. He attended the San Antonio Martin Luther King, Jr. March a few years back, dined at neighboring Eastside restaurants and fully emerged himself into the surrounding community," Burman says in a press release.
According to Kornfeld, the sculpture is meant to be interactive and reflect King's non-violent philosophy.
"Dr. Martin Luther King and his philosophy of social change inspired the artwork by non- violent action," Kornfeld says in a press release. "The open hand depicts a gesture of non-violence and is reinforced by the open ring in the palm further depicting a non-aggressive pose. The ring at the bottom of the arm is designed to encourage visitors to step through the artwork."