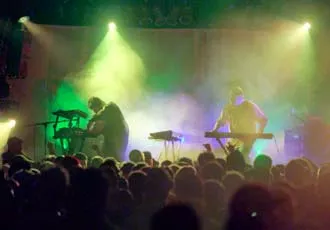 Crystal Method: continuing to merge electronic sounds with a rock aesthetic
(Photo by Mark Greenberg)
Crystal Method carries the torch for American big beat
At first, the pair of outstretched hands don't really faze the Crystal Method's Ken Jordan. They're attached to a particularly overzealous, over-intoxicated concertgoer right up front at the packed-to-the-gills Showbox Theater in Seattle, and for the opening part of the 90-minute set he's content to pump his fists in the air and throw devil horns to the Los Angeles-based duo's big pulsing beats and growling, hypnotic techno grooves. Jordan even reaches down and high-fives the guy a couple of times with an appreciative grin.
But then the dude begins to press his luck, aggressively clutching at the keyboard perched at the edge of the stage and shoving his fingers into Jordan's face, which hovers just over the swaying, jumping throng. A glare downward has no effect, and as his frustration mounts, the now-distracted musician glances helplessly to his right where eight feet away, partner Scott Kirkland - hunched over his own bank of gear - returns his gaze with a concerned half-smirk. Finally, the fed-up Jordan grabs his keyboard and bulky stand mid-song, yanks it out of the guy's grasp, and drags it backward to the middle of the stage, prompting a beefy roadie to rush into the crowd and "encourage" the troublemaker to head to the back bar for the rest of the show.
As soon as the tune is over, Kirkland ambles over to his bandmate, offering a brotherly handshake and a few words to help him cool off. Moments later, Jordan pulls his rig back up to the front and leans into the microphone with a relieved smile. "I was getting a little worried about that guy," he tells the cheering audience. "But what can you say, he's a really big fan and that's cool, so it's all good."
Certainly, the duo could avoid these situations by lurking anonymously in the shadows at the rear of the stage like so many other electronic acts, but that would go against the Crystal Method's modus operandi, in effect since 1994.
"Our idea from the get-go was to be less mysterious," explains Kirkland a few hours earlier as he relaxes in the tour bus. "We went to a lot of raves back in the day and most of the bands we saw play, it would be the guy hiding behind the computer and the racks of keyboards. But growing up in the rock climate of the States, our thing has been about being front and center and having people watch you play. We like the interaction with the crowd and we like people to see who we are and what we're doing."
Crystal Method
with
DJ Hyper
7pm
Wednesday, March 17
$17 advance; $20 day of show

Sunset Station
1174 E. Commerce
222-9481
Current
Choice
ζ
With their stadium-sized assault - built around layers of distorted, metallic synth swoops, cavernous basslines, and thick hip-hop breaks with occasional trips into moody, trance-y soul and funk - the Crystal Method has always been considered dance music for rockers, on par with such peers as the Chemical Brothers, Death in Vegas, and the Prodigy. They've bolstered that reputation through past partnerships with people outside the usual electronic realm: Rage Against the Machine/Audioslave guitarist Tom Morello, Stone Temple Pilots' Scott Weiland, and Filter (with whom they did a memorable reworking of "Trip Like I Do" for the
Spawn
soundtrack in 1997) among them.
The twosome continues to merge disparate worlds on its excellent third album, Legion of Boom - the guest roster includes oddball former Limp Bizkit axeman Wes Borland and John Garcia, the one-time singer of stoner-rock legends Kyuss, plus Roots rapper/beatboxer Rahzel and model/actress/breathy-moan-provider Milla Jovovich.
"We work really hard at having our own distinctive sound, but within that we try to do these collaborations that add different elements to what we're able to do by ourselves," says Kirkland. "We don't necessarily have a 'wish list' or idea going in; it's more like being in the studio and writing a track and then thinking about someone we'd like to hear on it, be it a vocalist or a guitarist or whatever."
"We're big fans of Wes, we've known him since doing the Family Values tour with Limp Bizkit a few years ago, and he definitely stood out as being the most inventive part of that band," he continues. "With John, we didn't know each other even though Ken and I love what he's done in the past, so it was a little uncomfortable at first. But we had this bottle of Jack Daniels sitting in the studio and we got him to knock some down, and eventually we were able to get a really amazing session out of it. Not something I would usually recommend, but it worked out cool."
Gauging from the frenzied response to the new songs - plus old favorites like "Busy Child" and "Keep Hope Alive" - the demise of the so-called "big beat" sound has been greatly exaggerated, even if in recent years it's been somewhat supplanted in electronic circles by IDM, glitch, and folktronica.
"Unfortunately, we sorta seem to be the 'last men standing' out of the American-based bands," Kirkland notes, "but the Chemical Brothers are still putting out amazing albums, and I think Prodigy and Orbital are about to put out something, so there should be another wave of this kinda stuff coming in the next six months or a year. I just hope that those artists will come over and do some extended dates so they can build momentum and tweak the electronic community here." •