A few sales are still pending, but we just heard that Blue Star Contemporary Art Center has sold over $110,000 in art works at this year's Red Dot Art Sale. Half of that amount--$55,000--goes to the over 60 artists who participated this year bringing 125 works of art to last Wednesday's gala and sale. The remainder of the banner-year sales go to support programming at the Center. Not just a high-roller event, there were plenty of artists on hand as well.
Bryson Brooks and Holly Hein Brooks strike a pose at Red Dot in front of a BB  original.
Rex Hausmann styles his new 'stache with one of his two art pieces.
UTSA's art department chair Gregory Elliott in front of his scary flag.
Justin Paar takes a moment from his task as event photo-documentarian to show off a new painting.
Danville Chadbourne and Diana Roberts with a Chadbourne piece.
Blue Star's Alex Rubio and Bill FitzGibbons with Vincent Valdez.
Sala Diaz board member and bon vivant Mike Casey with Kim Bishop and Luis Valderas.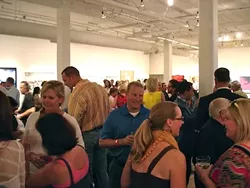 Art crowd: 5/23/12, SATX.