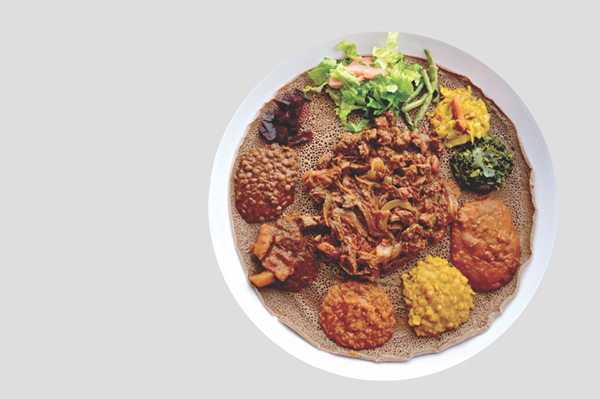 Photos Jessica Elizarraras
Though Berbere Ethiopian Cuisine has been supplying San Antonio with a steady diet of miser wot from their food truck window for several years, the city lacked a brick-and-mortar location to sit down and partake in one of the greatest food cultures in the world. Now, with the arrival of Rehoboth Eritrean-Ethiopian Cuisine just a few miles from the Medical Center, SA has a restaurant that, despite some missteps, fills a crucial culinary need for the international palate.
Eritrea and Ethiopia, despite a painful history of annexation and independence in the 20th century, share significant commonalities in their languages, their religions, and their kitchens. Jewish and Islamic dietary guidelines translate to a focus on beef, lamb, and chicken in entrees; at the other end of the food chain, the traditional fast observed by Tewahedo Orthodox Christians on Wednesdays and Fridays means the yetsom beyaynetu (better known as "the vegetarian platter") offers a venerable smorgasboard to Saytown vegans.
We visited Rehoboth on a Sunday evening as part of a relatively large dinner party, including a lively toddler. Happily, Eritrean-Ethiopian food is served family-style, so there was little concern about invading your neighbor's personal space. This communality is further encouraged by the role injera plays in the dining process. Made from a high-protein, East African grain called teff, it looks and tastes like a spongy sourdough pancake, rolled up like a beach towel and, at Rehoboth, served cool. Polite dining calls for you to tear off a piece of injera and pinch up a bite from these communal plates. It's gluten-free to boot, which delighted my wheat-intolerant wife.
Rehoboth divides its lunch and dinner menus into three categories: vegetarian, meat (i.e., beef and lamb), and poultry. Though I was tempted by the chicken options (particularly the tsebhi derho [$13.95], which features a drumstick and hard-boiled egg as the dish's centerpiece), I was won over by the key wot ($13.95), a shredded beef stew simmered in chili, butter, and spices. My wife ordered the tsada tibsi (12.95), another item from the meat menu, which consists of lamb and steak cubes cooked with tomato, jalapeno, garlic, and the ubiquitous, mouth-watering spice berbere.
Having learned not to underestimate the stomach-expanding capacity of injera, I ordered a vegetarian platter ($14.95) to go, planning to feast on its combination of lentils, greens, and cabbage after a few hours of digestion. Rehoboth typically cooks their vegetarian platter with butter, but will substitute it with olive oil to keep things animal-free.
The tsada tibsi and key wot were served in the same dish — a wide, shallow bowl lined with an unfurled piece of injera — with several individual rolls of bread served on a separate plate. The key wot delivered on the promise of its description: the butter and oil made it rich even as the berbere (which is made from no less than half a dozen other spices) danced up and down my tastebuds.
The only drawback was that the berbere's heat index was a notch or two beneath what I'd expected; the key wot was served with a side of plain yogurt, but I didn't find it necessary to relieve any spiciness. The tsada tibsi featured the same tasty-but-not-quite-spicy seasoning as the key wot, but the beef-lamb cubes themselves were more tough than tender, which made for some labored chewing, and hadn't absorbed the berbere as well as my dish had. It was strange to have such a divergence in quality on the same plate.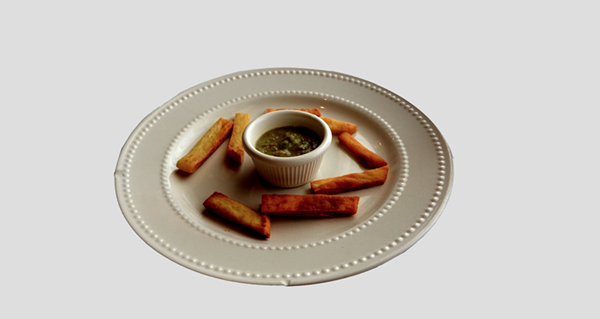 The same unevenness showed up on the vegetarian platter. For the most part, it was flawless: the silssi potatoes (extra-spicy taters served with fried onions), alicha (cabbage cooked with a generous dose of tumeric) and collard green/spinach blend were seasoned to an excellent degree of warmth without giving up any tenderness; it hardly seems like a hardship to get to eat this twice a week. The overly crunchy timtmo alicha (yellow split peas) and curiously underseasoned timtmo (whose red lentils were reduced to a paste), on the other hand, were slightly penitential. It wasn't that they were fundamentally unappetizing; instead, it seemed like the kitchen had left those items on the backburner to lavish attention on the rest.
The only place where Rehoboth really came up short was with its coffee. Ethiopia is, after all, the birthplace of java, and many restaurants offer a lengthy coffee ceremony to accompany your after-dinner sip. My order came with the right outward appearances — a small cup and saucer paired with a jebena coffee pot—but the coffee itself appeared to be of the instant variety. Ethiopian coffee is a rare and particular pleasure, and I'd be lying to say I wasn't disappointed.
On balance, Rehoboth is a welcome addition to San Antonio's culinary landscape. What they do well, they do very well indeed, and there are several signs (most notably, a pending liquor license) to indicate things will continue to improve. If the kitchen will turn up the heat (metaphorically and literally) on a few of its items and stay away from the instant coffee, they'll do just fine.
Rehoboth Eritrean-Ethiopian Cuisine 1721 Babcock Road (210) 263-7002 eritrean-ethiopiancuisine.com. The Skinny: A family restaurant that, while its still finding its balance in the kitchen, delivers unique eats from the cradle of humanity. Best Bets: Key wot for the carnivores, vegetarian combo for the vegans, endlessly tasty injera rolls for all. Cost: $1.95 sambusa appetizers, $14.95 vegetarian platter Hours: 10am-10pm Mon-Sat; 2-10pm Sunday