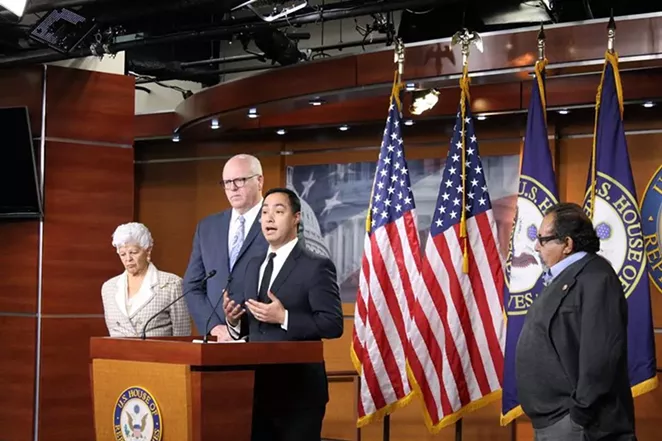 Via Joaquin Castro's Facebook page
Joaquin Castro and other Democratic lawmakers at yesterday's news conference.
After an Oregon senator was
turned away Sunday at an immigrant detention center
in Brownsville, U.S. Rep. Joaquin Castro said he's drafting legislation that wouldn't let it happen again.
During a Tuesday afternoon news conference, Castro said his proposed bill would require immigration facilities to open their doors to visits and inspections by federal elected officials.
"It's important because they're housing vulnerable people, particularly minors," said Castro, D-San Antonio.
Castro's announcement follows the attempt by Democratic U.S. Sen Jeff Merkley to drop in on a detention facility for migrant children housed in a former Brownsville Walmart. Accompanied by a camera crew, the senator
streamed his visit on Facebook Live
, capturing center officials asking him to leave the property. And, oh yeah, the cops showed up to make sure the senator complied.
In the video, Merkley said his staff phoned ahead to schedule a visit but got a blow-off from center officials.
During his news conference, Castro said he understands why detention facilities need prior notice before visits. But, even so, ranking lawmakers should be able to make unannounced visits — because, hey, Congress oversees federal agencies.
Castro has been
one of the most vocal critics
of the Trump Administration's punitive policy of separating children from the parents of people attempting to cross the border. In a two-week period in May, almost 700 children were separated from their parents, many of whom were asylum seekers, Castro said.
Stay on top of San Antonio news and views. Sign up for our Weekly Headlines Newsletter.