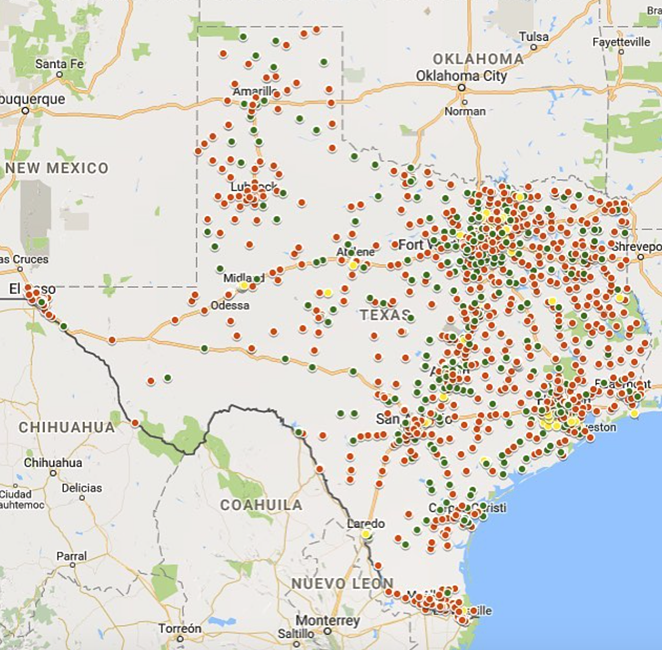 According to a recent
report
by the Texas Civil Rights Project, only 34 percent of Texas high schools requested voter registration forms from the Secretary of State from October 2016 to February 2018 — meaning the other 66 percent failed to assist their students in the first step in registering to vote under the process mandated by state law.
Despite the polarized national focus on politics over the last two years, this figure is only up from 14 percent in 2016.
Currently 82 out of 232 counties in Texas, or 35 percent of all Texas counties, did not have a single high school request a voter registration form.
"As the state's chief elections officer, we encourage Secretary Rolando Pablos to take common sense steps to address the abysmal compliance rate," said James Slattery, senior staff attorney with the Texas Civil Rights Project.
"We owe it to these young Texans to make sure they are equipped with the tools they need to participate in the democracy they will soon inherit from us. That includes making sure that every eligible high school student is offered the opportunity to register to vote as soon as they come of age, and educating them in all the duties of citizenship." Slattery continued.
Our state specific law, passed in
1983
by State Rep. Paul Ragsdale, requires high schools to allow eligible students the opportunity for registration
twice
a school year. Similar to our State law against picking
Bluebonnets
in some areas, this law has gone widely ignored.
"Instead of working with civic engagement groups, parents, and students, the Secretary's office has dragged its feet in implementing common sense reforms to help high schools comply with the law," said Slattery. "This means that, every year, more than 180,000 eligible students are not getting the opportunity to register to vote as required by law."
View
the digital map of the nearly 3,000 public and private high schools that detail which schools are abiding by this law crucial to betting civic engagement.
Stay on top of San Antonio news and views. Sign up for our Weekly Headlines Newsletter.