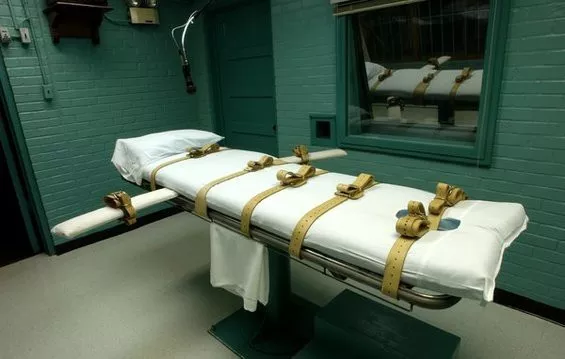 Amid their scramble to keep a steady supply of execution drugs in order to maintain the country's most active death chamber, Texas prison officials turned to a small group of young Indian men who illegally hawked party pills, psychotropics and opioids over the internet to customers in the United States and Europe.
That's the finding of a recent
BuzzFeed News investigation
, which reports that the five Indian drug sellers, all men in their 20s operating under the name Provizer Pharma, were ultimately raided by Indian authorities before they could ship the massive supply of execution drugs Texas had ordered from the company. Through a Freedom of Information Act request, BuzzFeed obtained records from the U.S. Drug Enforcement Administration showing Texas planned to import some 500 to 1,000 1-gram vials of the sedative sodium thiopental from Provizer Pharma.
The depths to which Texas would troll for death drugs underscores just how hard it's become to get this stuff. Prison officials actually started to move away from sodium thiopental, the sedative part of the state's longstanding three-drug execution cocktail, in 2011 after it became almost impossible to obtain (its sole FDA-approved manufacturer eventually stopped making the drug to keep it out of the hands of death penalty states). Texas switched to using a single drug, pentobarbital, to kill its death row prisoners, but even that soon became difficult to get. Since facing the occasional death-drug shortage over the past couple of years, Texas prison officials have said they're "exploring all options" when it comes to carrying out scheduled executions.
Apparently, one of those options meant illegally importing drugs from India. While sodium thiopental is still widely used in India, it's not approved for use in the United States. Plus, as BuzzFeed reports, under a federal appeals court injunction, the drug's not even currently supposed to be allowed into the country (and even if it were approved, Provizer Pharma still hadn't registered with the U.S. Food and Drug Administration, so the sale still would have been illegal).
Still, Texas prison officials were upfront with the feds about their plan. In January 2015, the Texas Department of Criminal Justice actually gave them a heads up. The drugs never made it very far — weeks after Texas officials informed the feds of their plan, Provizer was raided by Indian authorities.
So Texas tried again. Later that summer, it tried to buy more vials of sodium thiopental from an Indian a "
pharmacist
" with no pharmaceutical background. As BuzzFeed reports, even though the U.S. Food and Drug Administration told Texas and the supplier their plan was illegal, the supplier shipped the drugs anyway.
In July 2015, the FDA seized a load of about 1,000 vials of sodium thiopental shipped from India at a Houston airport. T
exas has sued the feds
to get those drugs back, arguing that importing the drugs without federal approval is allowed when the state uses them for "law enforcement" purposes.