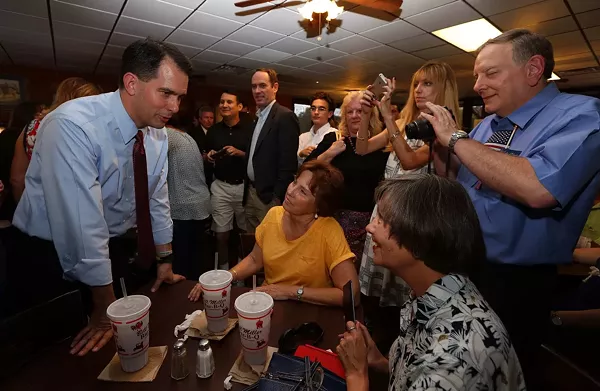 Via Scott Walker Campaign
Scott Walker meets with voters at the Bill Miller BBQ on Broadway.
Governor Scott Walker, R-Wisc., paid San Antonio its first official visit of the 2016 presidential campaign on Wednesday, dropping by the Bill Miller BBQ on Broadway Street for about an hour and a half.
Walker did the things that people running for president do. He shook everyone's hand, answered questions, took selfies and explained why he's the man for the job. His message was familiar: elect the outsider, shut down politics as usual.
[SLIDESHOW: 30 Photos Of Wisconson Governor Scott Walker Mingling And Munching At Bill Miller's]
"We're going to shake things up in Washington when we get there. We're going to wreak some havoc and put the American people back in charge," Walker said.
Via Michael Marks
The sign outside Bill Miller BBQ on Broadway welcoming Walker.
The visit was part of a three-city swing through Texas. He stopped in Dallas earlier on Wednesday, and will visit Midland on Friday.
Walker currently sits just below the top tier of GOP contenders, clocking in between 6 and 8 percent in most polls. He downplayed those results on Wednesday, pointing out that "polls go up and down," and the fate one-time front-runners such as former New York Mayor Rudy Guiliani.
The crowd of about 70 people skewed older, with a few students from the University of the Incarnate Word and Alamo Heights High School occasionally wandering in.
"He's in my top three [presidential candidates]," said Vivan Brown, who edits the
Bexar News
, a news service of the Republican Party of Bexar County. "I talked to him about taking on the unions, because I thought that was awesome."
Walker is well-known for fighting Wisconsin's labor unions in 2011. Union membership and bargaining power has fallen precipitously in the state since then.
Walker briefly addressed the crowd before taping a segment for
Hannity
on Fox News. But he earned his greatest applause after sampling some of the restaurant's sweet tea a plate of brisket. The group seemed almost exclusively pro-Walker, with a notable exception.
Via Michael Marks
Cassandra Wilson (left) and Kim Martinic (right) were asked to leave the rally because of their signs. They were later readmitted, sans-signs.
Before the event began, a Walker staffer approached two education organizers, Cassandra Wilson of the North East Education Association and Kim Martinic of the Texas State Teachers Association, and asked them to leave the event.
Wilson and Martinic had brought signs protesting Walker's position on school vouchers. They were told by the Walker staffer that the signs indicated that they would be disruptive.
"He told us 'You're uninvited as of right now,'" Martinic said.
Wilson and Martinic were later readmitted to the rally, though they had to promise "not to be disruptive." They weren't.