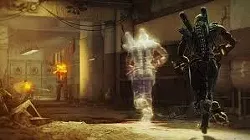 The "struggle for survival" game narrative is by no means a new one. Hell, more and more FPS shooters seem to make the most success when mankind is David going up against an interstellar Goliath (they probably have more tentacles than Goliath, but you get my point). The Resistance series by Insomniac Games has proven to be a well-executed franchise since it debuted as a launch title for the PS3, and the third iteration is no different. Fast and creative gunplay is married with an emotionally gripping, albeit mismatched, storyline that provides a genuinely entertaining single-player experience.
Set four years after the events of Resistance 2, Joe Capelli has left the army in search of peace and survival. As a husband and father, Joe's only concern now is to keep his family and friends safe. While the first two Resistance games danced with the struggle between the Chimera and mankind, this game makes no allusions to our disparity. Not only have the Chimera won the war, but now they seek to terraform the planet and make it their own, leaving what shreds
of humanity are left to die in the coming cold. Capelli is one of the last surviving soldiers of the war who must travel to New York City and make one last attempt to stop the Chimera and stave off the extinction of his race.
R3 takes you across half of the nation as Capelli is forced to help fellow survivors along the way to NYC, and
within the homes of the survivors are where the emotion really shines brightest. Documents picked up in each level depict various touching moments of hope intermingled with sadness, such as a child's letter to Santa Claus asking the aliens to stop, or a husband leaving behind a note for his missing wife in case she ever returns. In a way, I felt more connected to these people than to Joe himself, even though he carries his son's mitten with him throughout the game. Despite Joe's gruff demeanor, the game is not without a growing compassion for Jow as fighter begins to believe he is on a suicide mission.
Much like its predecessors, R3's bread-and-butter lies in the combat, which is tight and varied. Kept from becoming the monotonous linear procedure of simply moving from battle to battle, Joe's adventure comes in many different flavors. From protecting a survivor while he repairs an elevator, to escaping from a Chimeran machine the size of a skyscraper, Insomniac has crafted the most well-paced game of the series. Weapons like the Bullseye and the Auger make their return, coupled with a few new ones to keep the combat fresh and customizable. New to the series is a bio-gun that forces your foes to balloon up before exploding in a mist of slime and blood. The AI in charge of your alien enemy isn't without intelligence either as higher difficulties ramp up their advanced tactics. Don't expect to stay behind cover for very long when playing in hard or superhuman mode.
Thankfully, R3 has plenty multi-player to offer after the credits roll. Unlike the previous Resistance game, which could host up to 60 players on a single match, the new incarnation draws back the player count to more personal and intense 16-player matchups. All of the classic multi-player modes are available as well as a few modes specific to the Resistance franchises such as Chain Reaction or Breach. Insomniac also pays homage to the kill streak system made famous by the Modern Warfare games by implementing similar rewards at three, six, and nine kills in a row. Lower tiers give benefits such as assault shields or invisibility, while the higher tier transforms you into a giant armored soldier armed with grenade launchers or a mutated Chimeran Ravager. Either way, you're in for a gory treat as you decimate the other team.
With only a few minor problems in weapon balancing and slightly displaced emotional connections with e main character, Resistance 3 is a well-crafted installment in the Chimeran franchise. While it remains to be seen if Insomniac will continue to develop future sequels or hand the franchise to a smaller partner, it goes without saying that when it comes to alien invasions, Sony has plenty of talent to talk to.
See you in the next level,
Gray