The hardest part about Restaurant Week is paring down the multitude of scrumptious menus to just a few. With 46 participating restaurants and just seven days, that?s not a simple feat. Ideally, I?d have 14 delicious opportunities. But alas, the logistics of life prevails. This year, I?m planning on hitting up most of my picks for lunch and just two restaurants for dinner - with two kids under 5 and a demanding half-Ironman training schedule, it?s the most I can do.
With a limiting schedule such as my own, this Restaurant Week die-hard had to do some fancy foot work, prancing all over the deliciously tempting menus days before the party started just to set in stone "the chosen of 2013."
I love poring over these menus. My husband? Not so much. Me? It is a distinct pleasure–like Christmas for my anticipatory taste buds.
The menus tell you a lot about a place even before you pull into their parking lot and order your first treat. Just by looking at these menus, I can tell which restaurants are as excited about Restaurant Week as I am.
Seriously. Restaurant Week is a metaphor for opportunity. I see it as a chance for local chefs to earn my patron-ship, or perhaps transform me into a loyalist. Because let?s face it...we are all creatures of habit; and once we find our go-to spot, we go to it over and over.
Dear chefs, those Culinaria Restaurant Week menus? They are important.
Believe it or not, there were a few restaurants that didn?t bother posting menus [at the time of this post, all but one have posted their menus]. Those are the ones I won?t bother going to this week. Going through the remaining 43 restaurant menus didn?t take too long. I immediately eliminated chains (just based on my choice to support local chefs). Next up, I eliminated places that offered the mundane–the choice of beef/chicken or salmon. I chose the menus that caught my eye–citrus crab cake with toasted pumpkin seeds and cilantro hollandaise (hello!); bacon wrapped Texas quail served with bacon-corn waffle and maple-pecan demi glaze (you had me at bacon); chilled watermelon soup and chilled mango basil soup (interesting).
I started at Chef Jason Dady?s always pleasing Tre Trattoria (downtown). I love this place not only for its savory Tuscan Italian delights, but also for its big windows and remarkable views of downtown?s Hemisfair park and Tower of Americas. And also for its kid-friendliness. My date for this Sunday lunch was my very own fledgling foodie, Juniper.
I was disappointed that the menu was not the lunch menu that was posted online, but a simpler "brunch" version that offered two courses: a choice of fruit or yogurt with granola and a choice of a main dish. Juniper had the yogurt and I had the pan-seared potato gnocchi with gorgonzola cream sauce. The yogurt was yogurt. The potato gnocchi with gorgonzola cream sauce was a dream! Fluffy little pillows of delight that melt in your mouth, paired with a surprisingly light-on-the-ribs gorgonzola cream sauce.
Next up? The Liberty Bar for the chilled watermelon soup. Yes. That one course drove me to South Alamo Street and into the doors of the pink former convent. The chilled watermelon soup was amusing on the taste buds. I was expecting sweet, but I got a nice zingy tang - perfectly refreshing!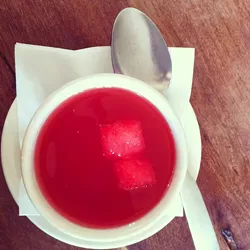 The Pollo Pibil with black bean puree, Liberty rice, pickled red onion en escabeche and corn tortillas was tasty. I won?t lie, I had to Google "pibil" and "escabeche." Pibil is the Maya tradition of wrapping the chicken in banana leaves to cook in a covered earthen pit. I?m not sure if the Liberty Bar has a earthen pit, but the chicken was juicy, tender and literally falling off the bone. Escabeche is a Central American method of pickling.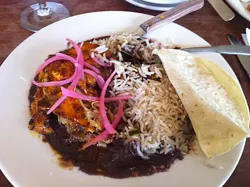 The third course, pastel de tres leches did not fail. Succulent and flavorful, this tresleches fiend savored every last bite!
If you missed Tuesday?s Restaurant Week food truck party, that?s a shame. The painted ladies lined the street at Travis Park and delivered tasty morsels to hungry (and patient) lunchgoers. There were many trucks to choose from, but for this English major, writer, and English language lover, I had to go with the very cleverly named Say.She.Ate. Which proved itself to be true to its name, gratifyingly so. The brûleed fig sald with cotton candy grapes, Akaushi beef slider with duck fat fries and Challah french toast with real ale blueberry compote looked something like this: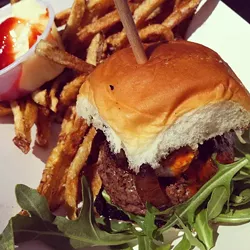 Finally, if you?re still reading this, do yourself a favor and get your appetite over to Ostra where I just devoured a definedly delicious lunch of chilled mango basil soup–which boasted a flawless flavorful trifecta of sweet, tangy and spice; (gigantic) crispy halibut sandwich–which was just grand on all accounts. Perfectly breaded and lightly fried, it was dressed with a Napa cabbage, carrot and cucumber slaw and mint cilantro vinaigrette. It was delectable right down to the pickled okra that crowned it. And last, but certainly not least, the tres leches cake. (Did I mention I?m smitten with tres leches? It?s complicated.) Piled high with passion fruit coulis (a form of thick sauce made from pureed and strained fruits or vegetables), and a fresh fruit salad, it was scrumptious.
Salivating yet?
Wanna join me on this Restaurant Week journey? Keep me Current. I?d love to hear about (and see) your Restaurant Week experiences. Follow the Current on Instagram and use hashtag #RWSA