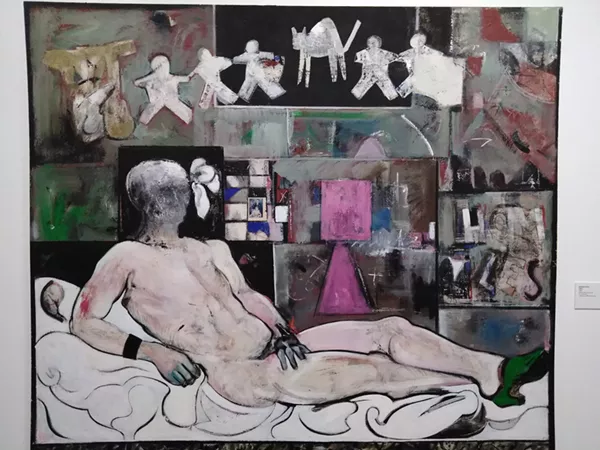 Alberto Mijangos, P.W.A. (Person with Aids)
A first-of-its-kind retrospective exhibition celebrating the life and work of the late artist Alberto Mijangos is on view through November 11 at Centro de Artes. Curated by Dr. Teresa Eckmann, associate professor in the Department of Art and Art History at UTSA, and presented by San Antonio's Department of Arts & Culture, the exhibition gathers 96 artworks by Mijangos, mostly large-scale, mixed-media canvases that trace the artist's trajectory over a half century.
While Mijangos was a revered figure within the local arts community, his work remains largely unexamined in national and international circles. This exhibition aims to set the scholarly ball rolling toward uncovering Mijangos' work and examining his role in encouraging cross-cultural exchanges between Mexico and the United States.
From the artist's forays into neo-figuation, figurative abstraction and postmodern appropriation, the exhibition reveals an artist whose life straddled both sides of the U.S.-Mexico border and whose work dealt with both social and spiritual issues.
The retrospective, titled "Alberto Mijangos: 159," is named after Mijangos' affection for the number 159, which for him signified the beginning, middle and end of life, but also represented God: "1 is the coming in, 5 is the time that we have until we die, and 9 is departing," explains a label in the gallery. Oftentimes, this number would appear in his paintings rearranged as 195 or 951. In Mijangos' own words, "When I finish my painting I say 'thank you' to the creative power. I put '159' in the painting somewhere and — there."
Born in Mexico City in 1925, Mijangos would eventually settle in San Antonio after facing several deportations. In 1959, he secured a diplomatic visa and was hired by the Ministry of Foreign Relations as the Mexican Consulate's gallery director. He served as the first director of the Mexican Cultural Institute, a position he held until 1973 while battling alcoholism. In the 1980s, Mijangos quit drinking and fully committed his time and energy to creating art. He led a community of artists and students, first at the Salon Mijangos (now the arts complex at 1906 South Flores Street) and later at the Southwest School of Art in the late '90s and early 2000s. In 2007, Mijangos succumbed to lymphoma after 28 years of sobriety.
Among the earliest work included in the exhibition are Mijangos' figurative paintings from the 1960s. A shift toward loose, aggressive brushwork led Mijangos into a period of figurative abstraction beginning in 1965.
The artist's mature period, beginning in the 1980s, is represented here by several series of work including Mijangos' T-Shirt series, the Olympia series, and the Chones series.
Taken from the T-shirt series and taking up much of the first floor are eight monumental paintings, each depicting both geometric and organic forms, and measuring at least 80 by 80 inches. While each painting in this series has the cruciform in common, each work explores a distinct vision represented by its unique palette and textured surfaces.
Mijangos' Olympia series, represented here by nine large-scale paintings appropriating Édouard Manet's infamous painting Olympia, marked a dramatic departure from abstraction to figurative painting while also offering social criticism. In this series, Mijangos used Manet's 19th-century figure as a vehicle to explore pressing contemporary issues. Among the most stunning and still timely works in Mijangos' oeuvre is the 1990 canvas P.W.A. (Person with Aids), depicting a transgender Olympia with a bare skull against a grimy background of graffiti. A portrait of Ronald and Nancy Reagan at the center of the painting points the finger at the Reagan administration for its poor handling of the AIDS epidemic. The term "HOMLES" spelled out in the background, evokes a sense of the isolation and desperation the figure must feel.
On the second floor of the gallery, selections from Mijangos' Chones series provide a haunting yet pleasing spectacle for viewers. Initiated in 1995, the series continued until Mijangos' death in 2007. Using underwear as a metaphor for the secrets that exist within our lives, Mijangos built up layers of paint upon large-scale un-gessoed canvases. Among the works here, Words Only Represent Something Else and Broken English, reveal the artist's mature signature style — abstract, architectural and layered with hidden text and colorful scribble. A powerful energy seems to emanate from these works as you make your way through the gallery.
Also among this series is Mijangos' final completed painting, The Shames of Adam and Eve. Here, a pair of white underwear merges with a cruciform in what may be interpreted as the ultimate symbol of "acceptance and forgiveness."
Alberto Mijangos 159
Free, 11am-6pm Tue-Sun, Through November 11, Centro de Artes, 101 S. Santa Rosa Ave., (210) 206-2787,
getcreativesanantonio.com
Get our top picks for the best events in San Antonio every Thursday morning. Sign up for our Events Newsletter.