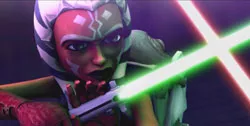 Star Wars: The Clone Wars
Director:
Dave Filoni
Screenwriter:
Dave Filoni
Cast:
Matt Lanter, Ashley Eckstein, James Arnold Taylor, Dee Bradley Baker, Tom Kane
Release Date:
2008-08-20
Rated:
PG
Genre:
Animation
Remember the days of not being disappointed by George Lucas? Me neither. I was just a twinkle in some anonymous transient's milky eye when Empire Strikes Back was first released, and I have to imagine that was the last time any good fanboy left a Star Wars film without looking like a kicked Ewok. With that 25-year-plus losing streak in mind, Clone Wars almost isn't unpleasantly unsurprising, for all of 15 minutes. A quick news reel opening — replacing that infamous slow-scrolling backstory text — gets things off to a promising acion-packed, reading-free start, and we're thrown immediately into glorious-ass battle.
For the moment, it appears, the film will wisely follow in the footsteps of Cartoon Network's original Clone Wars cartoon segments and actually show us the, you know, Clone Wars. Beholding Anakin single-handedly take down a giant battle bot gave me a minute of beautiful déjà vu. Those 2-D Americanime episodes managed to be cooler than the entire prequel trilogy by countering every minute of pseudo-mystical metachlorine dialog with approximately 20 minutes of lightsabers slicing shit in half, and the new film briefly appears to follow suit. I actually think, "Wow, the franchise might be redeemed a little here." The smooth computer-generated graphics seem like the natural progression from the latest trilogy, which features about .01 percent non-CGI anyway, and that blank, soulless stare in the eyes of the animated characters is less unsettling than that soulless wooden boy, Hayden Christensen (who opted not return for this film).
But, wait, who's this underage Togruta padawan, looking like an Olsen twin in raver headgear? Please tell me this spunky little Bratz knockoff will be off the screen soon. Please don't let her be Anakin's new ward. No, George, no.
But despite my pleas, Ms. Ahsoka Tano prances onscreen, and the child ass-kissing begins (figuratively speaking, at least). From then on, the script seems dictated by some misguided focus-group research, apparently indicating that the Adderol-chomping squealers infesting theaters these days will only pay attention to pre-adolescents with attitude. Not only is Anakin (not to mention the audience) saddled with this snot-nose for the remainder of the film, he gets a new mission: Rescue Jabba the Hut's kidnapped infant son, and ruin any credibility the saga had left with poopy-diaper jokes and sappy Full House heart-to-hearts.
Wait, what happened to his previous mission — Jedi-ing it up old school? If he's got to babysit a chubby-cheeked phlegm-wad for the next 90 minutes, why can't we watch Mace Windu (actually voiced by Samuel "L is for 'let's make a clone army out him'" Jackson) dicing droids instead? These questions aren't answered, of course, and the lame explanation (something about a space treaty) only makes the real reason (merchandizing) that much more apparent. Only a marketing executive could be heartless enough to ruin what might be the remaining true fans' last chance at a decent theatrical release to hock Happy Meal toys to their ungrateful nerdlings, those Skyler-come-latelys who probably grew up watching Episode I on effing DVD.