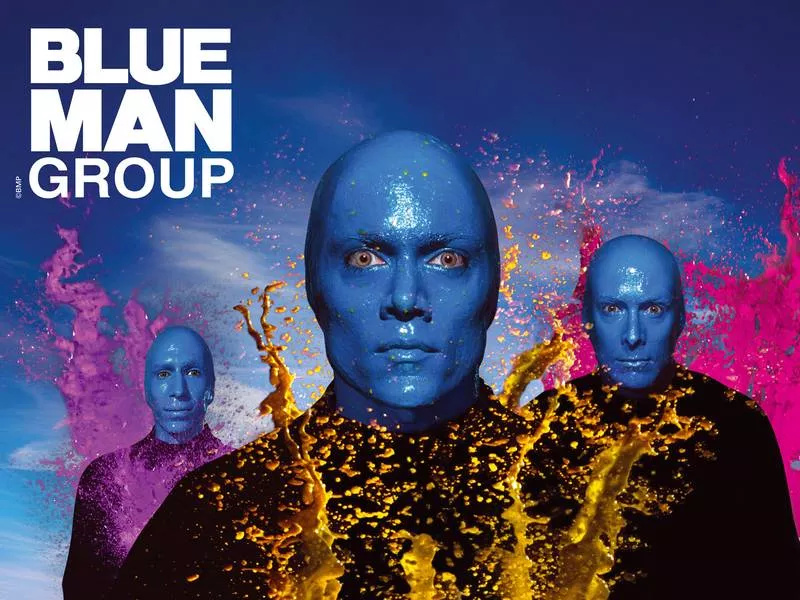 It's hard to believe that it's been almost twenty years since I saw the Blue Man Group at the small Charles Playhouse in Boston; my memories are a bit hazy, but I recollect plenty of liquids, regurgitation, percussion, and toilet paper. (I do hope these are memories of the Blue Man Group.) So I was curious to see how this oh-so-off-Broadway show—created by the prodigiously talented Matt Goldman, Phil Stanton and Chris Wink—would be able to fill a cavernous space like the Majestic. As it turns out, I needn't have worried: the production absolutely floods the theater with high-tech, neon spectacle. This is a completely reimagined piece that downplays the group's roots in mid-80's avant-garde music and emphasizes, rather, a sly and subversive take on American culture.
The set-up is simple: three completely blue men rejoice in their alien musical gifts even as they explore—like anthropologists—the peculiarities of contemporary American life. This oddball premise allows the creators to parody any number of contemporary trends, though social media and the visual arts offer the biggest bull's-eyes. Indeed, the evening's most keenly-observed moment occurs when the aliens invite the audience to read three different texts on three giant iPads at the same time: the Blue Men figure that we humans are addicted to texting, and addicted also to multitasking, so why not give us what we want the most? It's the Blue Man version of Love.
But technology isn't the only target: along the way, the group gleefully parodies (or travesties) a mind-boggling array of art, both high and low: from Beethoven to Lady Gaga, from Andrew Wyeth to Jackson Pollack. (Absolutely the best sight gag in the show involves poor Christina, from Wyeth's richly-deserving Christina's World. I'm still laughing.) And while audience participation usually makes me wince, at least the Blue Man Group cunningly exploits the dynamics made possible by breaking the fourth wall: here, it's something of an adventure on both sides of the stage. (For instance, one particularly ridiculous skit explores the proper etiquette for eating Twinkies—and excreting them.)
These goofy sketches are generally intermixed with percussion-heavy songs and dances, supported by a rocking band. (There are warnings in the lobby about the loud volume, but I was sitting up close, with no problem. And I'm a sensitive to that sort of thing.) At 100 intermission-less minutes, the evening simply flies by—except for a rare misstep when an audience member is invited "back-stage" for a parody of soulless art. (That particular send-up should be reconsidered; the aliens should never be cruel. Childlike glee is their métier.)
So: I was dubious about the merits of seeing Blue Man Group on tour—I figured I'd been there, done that. But the group's new show is a delight: funny, well-produced, with a dazzling design by Joel Moritz, and spiffy direction by Marcus Miller. Even if you've seen BMG in its smaller venues, it's worth a look. And judging by the packed house at Tuesday's performance, tickets will be scarce: get 'em soon, or you'll be blue, too.
--Thomas "I Couldn't Quite Make an Azure Joke Work" Jenkins, Current theatre critic.