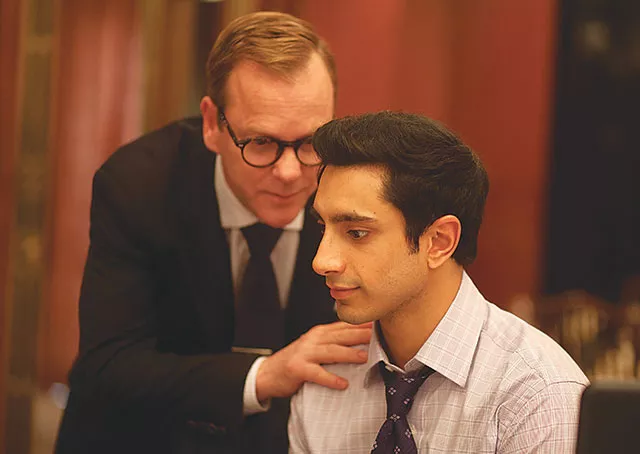 Courtesy photo
Kiefer Sutherland plays capitalist mentor to Riz Ahmed's conflicted Changez
Mira Nair's new film, The Reluctant Fundamentalist, arrives at a time when its story is likely to be of interest to a much larger audience, now that we all know the Tsarnaev brothers' names. The film and its excellent, eponymous source novel by Mohsin Hamid follow an ambitious young Pakistani, Changez, who rises rapidly in the United States' meritocracy until the attacks of September 11, which force him back to Pakistan and its growing, radicalized Islamic youth culture.
Nair's film version takes some liberties with the plot, some necessary, some pointless and unsuccessful. To be fair, it was a daunting task, one that Nair stepped around by describing the film as "inspired by" the novel. Filmed as written, the movie would have ended up a one-sided My Dinner with Andre, as it's a monologue delivered by Changez in a Lahore café to a truly silent American. In the film, Changez, played by British rapper and provocateur Riz Ahmed, unravels his tale to a shady American journalist played by Liev Schreiber, who, in a manufactured plot point, insists that Changez orchestrated a mysterious kidnapping scheme.
As an eerily calm Changez begins speaking, chaos unravels around the café, some years after September 11. It seems a riot — perhaps provoked by devoted students of Changez' at the university where he teaches finance — will consume them at any moment. Until the end, one can't discern whether Changez is merely a man fucked over on account of his Pakistani heritage or the leader of a radical student group that has kidnapped a well-known American professor.
How Changez ended up a person of interest to the CIA is told via flashbacks delivered by a changeable Ahmed. Sometimes filled with boyish charm, at other times an icy shark, but all the time exceedingly polite in a way that is expected in Pakistani culture but foreign to the point of suspicious for many Americans, Ahmed captivates. His story begins at Princeton, where he has escaped his family's fading upper-class lifestyle. From there, Changez scores a prime opportunity to work as an analyst for Underwood Samson, a New York-based financial consulting firm. Mentored by Jim, the partner that recruited him (played by a wonderfully buttoned-up Kiefer Sutherland), Changez quickly proves himself in that dog-eat-dog world. But just as he's about to return to New York from a career-making offshore assignment in the Philippines, Changez learns of the World Trade Center attacks.
While Changez admits to feeling a certain sense of satisfaction and awe about the attacks, comparing them to the David and Goliath battle, it's his treatment back on American soil that really awakens anti-imperialist sentiment. He is strip-searched, falsely accused, and imprisoned in short order. Although many of his friends and colleagues support him initially, Changez grows more and more upset with his firm's cutthroat capitalism and his adopted country's treatment of innocent Muslim Americans and immigrants. After quitting his job, he returns to Lahore to become an inspirational professor for a generation of angry young Pakistanis.
What does he teach them? That's the central question of the film, but it's obscured by the addition of the kidnapping scenario, the riot, and a deflating love story. In the novel, Changez' love interest Erica is a fascinating, fragile young American writer he meets at Princeton, whose grief over her childhood sweetheart's death is re-ignited in a tragic way after September 11. Yet in the film, an oddly frumpy Kate Hudson plays Erica as all quirk and little depth, who uses Changez as a subject in her pretentious photography. Their love affair lacks chemistry on screen, and because it plays out in flashbacks intercut throughout the film, it weighs down the entire experience.
If only we saw more of what Nair excels at: sweeping shots of Lahore in all its dusty, golden-tinted glory, and pulsating party scenes filled with intoxicating Pakistani music and dance numbers. This is the woman, after all, who brought Westerners Salaam Bombay! and Monsoon Wedding. She's also a trusted voice in depictions of the South Asian-American experience (The Namesake). Despite Nair's mastery, and Hamid's involvement with the script, The Reluctant Fundamentalist falls short of Hamid's new classic, a casualty of trying to film the unfilmable, perhaps.
The Reluctant Fundamentalist
Dir. Mira Nair; writ. Ami Boghani, Mohsin Hamid, William Wheeler; feat. Riz Ahmed, Kate Hudson, Liev Schreiber, Kiefer Sutherland (R)
At Santikos Bijou and IFC On Demand