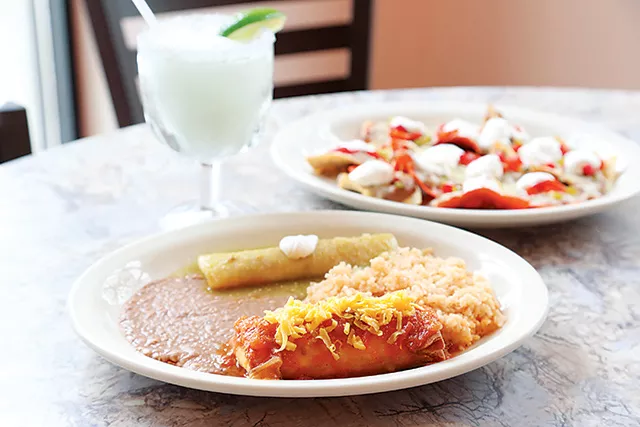 SUNNI HAMMER
Louie's Lunch Plate
Viola Barrios opened her first restaurant on Avenue B in 1979, the year I first started reviewing restaurants. We share an anniversary. Here's to you Viola — may your memory linger long.
Viola herself didn't stay long on Avenue B; she and her family went on to build a legend with the ever-expanding Los Barrios on Blanco Road, where she often held court under her own portrait; I interviewed her there in 2002 for Texas Highways magazine. The task of taking the Tex-Mex torch to the nation had by then passed to her daughter, Diana Barrios Treviño, who would go on to present San Antonio's signature cuisine at the White House, to do a family cookbook, and to best celebrity chef Bobby Flay in a puffy taco takedown. A second restaurant, La Hacienda de los Barrios, opened in then-virgin Tex-Mex territory north of 1604.
And now comes number three, a tribute to the late Señora Barrios who was murdered five years ago. There's a portrait of her here, too, and a fountain outside the restaurant's arched ventanas serves as a kind of a shrine. The restaurant space itself is also a reflection of la Señora, I was told: nothing too modern, nothing too Tex-Mex cartoony. To some, the resulting homage may be a little corporately bland, though the decorative concrete tiles are a nice touch, and it's interesting to note that the major light fixtures came from now-shuttered Brasserie Pavil, a restaurant designed to evoke fin de siècle Paris.
Perhaps the place just needs time to mellow into her image.
Though there are a few dishes specific to VV (fideo among them), the rest of the Barrios-style menu has had plenty of time to mellow out. I began my visit with the venerable Nachos Agrios, finding the blend of beans, jalapeños, cheeses, and sour cream to be as good as ever. Louie's Lunch Plate, consisting of an enchilada verde and a burrito, is perhaps best described as serviceable (it's also only $7.59 on a price scale that can reach $22.99). The chicken in the enchilada was moist, if plain, with most flavor coming from a bracingly tart salsa verde; the flour wrapper of the burrito was a little tough — and more salsa ranchera would have been welcome, but the beans within were sensationally well-seasoned. An accompanying bowl of frijoles a la charra boasted rich, full flavor. And my house margarita, bumped up with El Milagro tequila, was good of type — the type not made with fresh lime juice.
Another classic Los Barrios dish, one Señora Barrios brought with her from Bustamante in the state of Nuevo Leon, is Cortadillo Zuazua Style. Like the restaurant, it is neither flashy nor what one thinks of as Tex-Mex. Beef tenderloin is first steamed, then cooked with tomatoes and apparently a little chile, and the result is something earthy and primal. Tuck a fistful into a good, house-made corn tortilla as a tribute to both tradition and to a family that continues to be signature San Antonio
Viola's Ventanas
9660 Westover Hills
(210) 684-9660