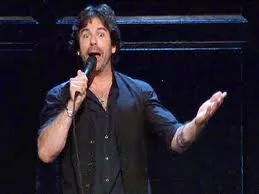 October 15th was a date every local comedian eagerly awaited. It was the start of Greg Giraldo's run at our new comedy club Laugh Out Loud
and it promised to be a great show.
A 'comic's comic' is a phrase that is thrown around a lot any time a comedian doesn't necessarily connect with a mainstream audience. Giraldo was one of the few who could not only crush a crowd, but play to the 'back of the room' at the same time. His material was relatable, edgy, and relevant
... but what always made me listen was the fact that you knew he was absolutely sincere.
You see
you don't always find honesty in stand up comedy. It's a medium that has a nasty habit of rewarding pandering for the sake of beer sales... then it does developing an artistic expression.
I've seen comics attach themselves against issues they secretly endorsed purely for the sake of T- shirt sales... and I've seen National Headliners change their POV depending on what the audience that night supported.
Greg Giraldo did none of these. When he talked about the economy, war, or marriage... you knew it was from his own educated perspective . The fact that it was so relatable made his originality even more important and shows exactly why a lot of us in the comedy community will miss him.
There are many clips you can  look up on-line that will easily back up my opinion, (my favorite being his verbal bitch slap to Denis Leary on Tough Crowd) but an interview he did for psychologytoday.com really connects to me on the most personal of levels.
(many thanks to my friend, comedian Anthony Torino for finding this)
http://www.psychologytoday.com/blog/brainstorm/200905/greg-giraldo-failure
(Oct. 15 and 16th Comedian Robert Kelly will be headlining in Giraldo's stead. You may know him from Dane Cook's 'Tourgasm' or as Louis CK's brother in the F/X show 'Louie'.)