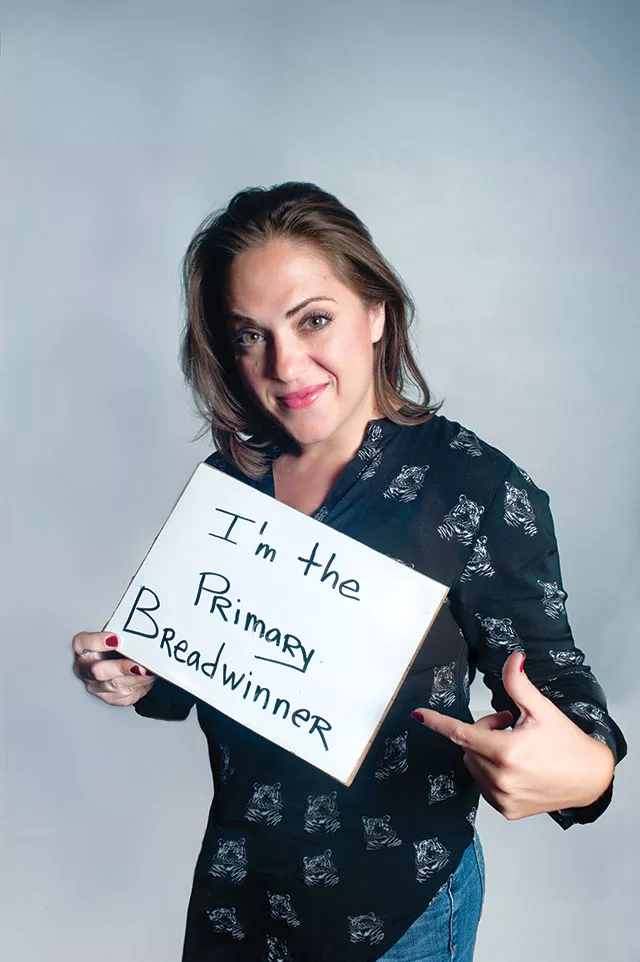 Sarah Brooke Lyons
30; divorced
Children: Daughter, 8
Job title: Photographer
Estimated household income: $25,000-$50,000
Education: B.A.
How did you become the primary breadwinner?
After my divorce I really cut all ties with my ex-husband and began supporting myself entirely at that point. There's no child support, there's no help from her father.
Describe your job:
I'm primarily an editorial and commercial photographer. I shoot a lot of portraits— portraits of people in the business community, portraits of people that want to define their online presence and stories on people in the community. My love in photography is international work with mission organizations. It's very rewarding.
Is your job now the career you'd always thought you'd have?
No, I always thought I'd be a librarian. But I had taken photography classes at San Antonio College and took one just for fun and ended up taking all of them. When I was a single parent getting my bachelor's degree it made sense for me to start taking on photography work to be able to go to college and still have some flexibility with my working hours. So I started up my business so I could have that flexibility and by the time I graduated with my bachelor's degree in early childhood education, I had established myself as photographer and kept running with it.
What is your dream job?
[Photography] is. It's a lot of work, a lot of hours and within photography there's a huge spectrum of different types of jobs. So there's times when I'm shooting things that I would rather not, but within that I also get to do some pretty amazing jobs. My dream job is to be doing international [photography] work full-time. I'm not doing that now, but I hope that at some point in my career I'm able to travel a lot more with photography.
What's the most rewarding aspect of your job?
The most rewarding aspect of my job is to help people feel good about themselves through a portrait. When people see an image of themselves that they identify with and that they feel makes them look good, that's a really wonderful thing. And I think there's an element of self-esteem that I can kind of encourage in people.
Also being able to help people preserve memories. I like to think that at some point in their lives, they are going to look back at the images and it's going to hold a lot of emotional value for them. And being able to sort of capture that emotional moment in a way that they feel reflects how it actually was, that means a lot to me … when you're in the moment, and you feel joyous and you feel happy, I want to be able to capture those emotions in that moment so when they look back, they feel those emotions again.
Where do you see yourself in five years?
In five years I would like to be doing more international work, I would like to be shooting for national publications and be doing portraitures that tell a story of public figures and community leaders.
What age do you expect to retire?
I don't ever expect to retire [laughs] I don't want to­—it's not an option!
I just did a mission trip with a woman who is 78 and every couple of months she goes to a different country. She's a nurse and she goes with different organizations that set up medical clinics and she's sort of my inspiration. She's going to keep going, she's heading to India in November and I kind of see myself doing something like that. As long as I can keep helping people with photography, I'm going to keep doing it.
What's your biggest financial worry?
I used to worry financially but I gave it up to God, though. I stopped trying to be the mother and father and I'm just the mother and I let God be the father. I let go, I give him every time I'm worrying about something financial, I let it go and I remember God is my protector and my provider and I don't have to be everything. I don't have to do it all, I can only do what I can do, and I just keep working hard and it's amazing how it all works out. I'm always fed, I have everything I need and I get to have these incredible life experiences, I keep being in awe of them.
Has your career altered your personal life?
I've been able to come out of my shell a lot. Particularly when I came out of my marriage I had a lot of anxiety and it was difficult for me to be social. The camera was a way for me to interact with people that I couldn't seem to find within myself. So, I was able to form relationships through photography.
It's also been very therapeutic for me, just the creative aspect of it […] it's opened up my eyes to how I can help people with photography. I just got back from a trip to Brazil and I met a little girl there; I'll be able to tell her story now, I'll be able to share with people her needs, her hopes for the future and her life can be changed dramatically because of the willingness to go there and capture her story. And this also happened on a trip to Africa and it happens here as well. I think I realized what I do is bigger than me, I can serve other people through what I do, I can share their stories and give them opportunity and hope. I can be the middleman that gets their story and their voice to a larger audience and that to me is more important than anything else I could ever do.
Did your mother work when you were growing up?
She mostly stayed at home. There were a couple of times where she had a job but mostly she was a stay at home mom.
Are you planning to always be the primary breadwinner?
I don't know. It would be nice to not have to be, but I have no problem with it, either. I just think whatever God has in store that's the direction I'll go. In the meantime, I'm going to keep doing what I'm doing, I don't really think about it.
How has being the primary breadwinner affected your relationship(s)?
I think that because I've had to take on a lot of responsibility, I don't find a lot of excuses in life. I appreciate it when people are able to make a life for themselves without letting the excuses get in the way.
Yeah, I guess that a typical girl in her 20s might have a focus on relationships in a different way than I have. I've been responsible for providing everything in my 20s. I've had to be more focused on my career and more focused on my child and less focused on relationships, so it's definitely affected it in that way. I see a lot of girls my age having had relationships that I haven't experienced so it's definitely something I haven't been able to really put energy into—they take so much time and energy and focus and I just don't have any of that extra to give.
How do you think society views female breadwinners?
I think typically there's this sense of empathy, like there's a necessity to feel sorry for them or feel like that they're missing something in life. Society seems to allow me to feel sorry for myself. Like I'm given this sort of pass, like I can make excuses and I find that really frustrating, that I'm supposed to feel like there's something lacking in my life or that I'm allowed to make excuses for things. I think that society tends to have this sense there must be a reason to pity me.
What does "having it all" mean to you? Do you think you have it all right now?
Having it all to me means a sense of security, I guess, a sense of peace. Having it all to me means being able to be at peace in the moment, without anxiety and without worry. I think there are moments when I feel like I have it all and there are moments when I have to continue to let go of my expectations. I don't think it's necessarily related to a certain income or life situation, I think it's more something internal that comes with peace and being able to let go.
Do you have parenting and childcare support from your family and friends?
I have incredible support from my family. I have a mom who helps me with my daughter. I have two brothers and my sisters-in-law live in San Antonio, they help me with my daughter and they love us and never make me feel like there's nothing I can't do, they just make me feel like I can do anything in the world. And they help take care of my daughter when I need help.
Has having kid(s) altered your career path?
If I didn't have my child I don't think I would have any structure in my life at all. I'm not a naturally a very structured individual and she's given me a reason to have goals and to have structure in my life and a reason to be driven. And without her I don't think I would have taken my life or my career seriously, I would be kind of a wandering gypsy without any real sense of goals.
How do you feel like our job market accommodates working mothers?
Well, because I'm self-employed I haven't really had to deal with employee discrimination in any type of way. So I don't have to face job discrimination quite as much. You know, logistically, it can be really difficult to find childcare but I think that's more because I have such sporadic hours and a schedule that's sort of here, there and everywhere. But if I was in the job market I might have more insight to that question.
What's the most challenging aspect of raising your kid(s)?
The most challenging aspect is the logistical part. I can't just get up and go anytime I want, like I said, I'm sort of a free spirit. I have to learn, I have to be home at night after she goes to bed I have to stay there until she wakes up in the morning, you know the scheduling of things– taking her to school, picking her up, those are the hours I have to work, in between that time, I can't keep working until 6 p.m. because I have to get her from school and then come home and make a snack and then clean the house and make dinner and get her ready for bed. That part is really difficult, working around the schedule of having a child. It's a very busy life. I can't schedule things as I want to have them scheduled, I have to schedule them around life as a parent.
What's the most rewarding aspect of raising your kid(s)?
Life is so much richer; it's so much more full. There are so many experiences I get to have and conversations. It just takes life to a new depth. It's so fantastic.