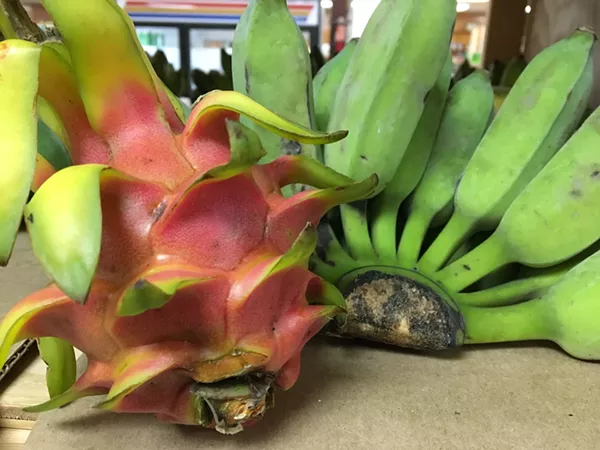 "The outside and neighbor might look skeptical, but you won't be disappointed…"
Gotta love online reviews. But as I don't want anyone or anything looking or being skeptical, here's my take on this bustling pan-Asian Market. First thing to know: the neighborhood is far from posh, but the unpromising intersection of Fratt and Remount was one of SA's early hotbeds of non-Chinese Asian. The little café that's now a Mexican restaurant was where I first fell in love with banh mi; the place across the street was the original Van's restaurant. That Hung Phong was nearby was just icing on the cake.
Second thing: The aisles are abuzz with non-English conversation, but that doesn't mean that you will be shunned. "I don't speak Vietnamese — go to the back and ask," was the response of one of the smart-assy, but friendly, Gen-X checkout staffers to a question from an older lady. Or at least you will be dealt with equally.
Third thing: either come as a culinary tourist and simply roam the aisles, or have a certain recipe in mind. Last time, I was looking for lotus root, among other things. Bingo. This time, I just kinda wandered. Thursday is an especially good time for either approach as it's fresh produce day. (Go to the back through the flapping plastic curtain.) By 3 p.m., much has been picked through.
"We never know how much of anything we're going to get, so come early," was the suggestion at checkout. There were still a few lotus roots, plenty of long beans and green papayas, scaly melons and pale, packaged mushrooms, fat ginger roots and cooked salted duck eggs, boxes of sculpturally trimmed sweet, young coconuts and tumescent daikon … Colorful dragon fruit and hands of tiny green bananas were on display in another area near the cash registers. It's easy to conjure up a stir-fry just by letting your eyes lead you.
Supplements to that stir fry can be found outside the cool produce area in even colder display chests: tofu from soft to firm and even in ball form, whole duck, frog's legs, pork ears and brains (okay, you can skip those), and promising looking Chinese sausage … and that's just on one wall. Along others you'll find frozen whole pompano and coiled eel, silvery smelt and snails in the shell, numerous stuffed buns for steaming. And myriad dumplings. Grasping at something that would be a kind of theme, however lame, I assembled an assortment of frozen dumplings and dessert, along with a jar of pickled, baby eggplant and another of kimchee to serve as sides.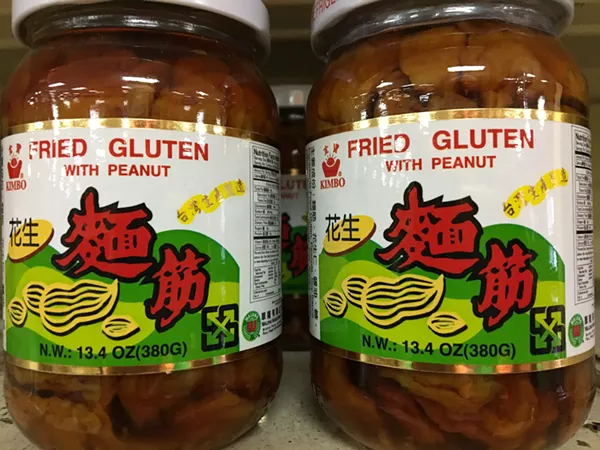 The frozen dumplings are also myriad in shape and filling. You can get both yam and lamb, for example. But I finally settled on pork shumai and some empanada-style packets filled with leek. Dessert would be frozen sticky rice and grilled banana wrapped in grilled banana leaves. And then I started looking at sauces from soy to fish. In the interest of brevity, let's just say that you'll find what you want and then some. My choice was a small bottle of so-called soy seasoning — kind of a jacked-up version of regular soy sauce. Here's the result:
The shumai were very good simply microwaved (other fillings such as shrimp are available); the subtle leek dumplings deserve to be steamed as the edges tend to get tough when zapped. The super soy worked well with both. Reheated, the sticky rice and banana was also good but I felt it needed a little something else — maybe some of the azuki paste ice cream. Or a dab of durian sorbet. The kimchee (this one has a little fish sauce in it) was sensational; I had to stop myself from eating the entire jar. But the orbs of eggplant were crunchy and not very briny — so I re-brined them in white vinegar for later use. Maybe next time I'll try pickled jujube, young grape or even bamboo shoots. There's no end to it, and we didn't even get to noodles, super-thin rice paper or sweet black sesame cakes.
Looking less skeptical now?

243 Remount Drive, (210) 655-8448.