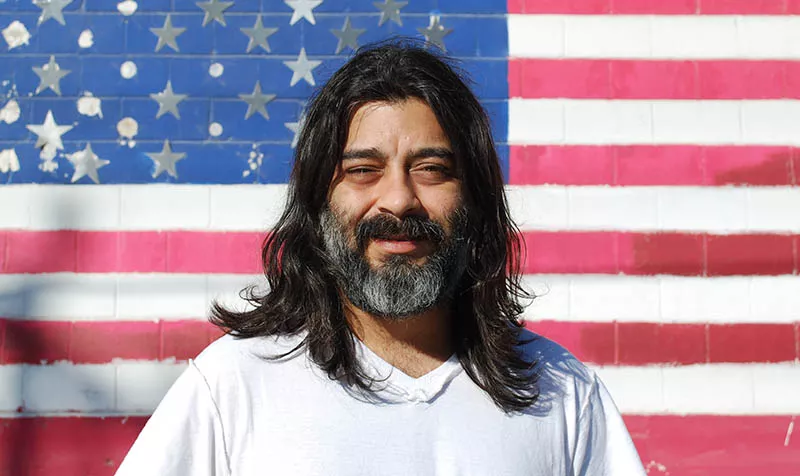 Courtesy
Phil Luna of The Please Help
For the past couple decades, Phil Luna's sandpaper voice and salt-and-pepper 'do has been a staple of SA music, tearing up dives and music halls with various cuts of rowdy rock 'n' roll. With his new project, The Please Help, Luna looks to change that rude attitude, opting for an image of positivity.
"All my old projects were pretty aggressive and pretty provocative in one way or the other," says Luna. My kids were getting old enough to start paying attention and ask questions and take influence. Not that they didn't before, I guess it occurred to me more all of a sudden. I started trying to write music that was the opposite. Less provocative, more positive and universal."
Let's pause for a retrospective of the collected Phil Luna. First, there's the cover bands out of high school with Jason Garner of The Polyphonic Spree. Then there's the Taco Land days of the Moods, Worm, 1.0 and the sax-screeching Shit City Dream Girls. More recently, it's been the jam-heavy jazz of Royal Punisher and the melancholy indie rock of Fear Snakeface.
"In my career, I never achieved what I wanted to with those acts," says Luna. "It didn't work. I was looking to make something work, to make something positive, to sell some songs and be a better role models for my kids."
It's a pretty daunting Alamo City legacy to transition away from in one effort. But it's a challenge that Luna accepts on the self-titled debut of The Please Help. Over 12 songs, Luna charts an exciting and nuanced take on power pop, driven by wailing guitar and funhouse keys.
Like the best power pop, the record isn't reserved to campy takes on classic rock. On the opener, "What I'm Hoping," The Please Help comes out swinging, with a giant, heavy-gain, J Mascis riff. Luna sings a straightforward ballad of crazed love, packed with rhyming couplets. "Right in the middle of a constellation / We don't need to make this no math equation," sings Luna, as the melody falls down the scale with the guitar riff. "Having made one that's decidedly pretty rock 'n' roll, I didn't feel the need to write four more of those," says Luna, on the song's freeing properties.
For the video, Luna and videographer Noah Peterson tried a tracking shot approach, with a single frame following Luna through downtown traffic. "I didn't want to overthink it so we started with the obvious—me singing," says Luna. As Luna belts out his scratchy vocals, there's a few quizzical looks from bystanders, probably 'cause the pair snaked up and down the city trying to get the right shot. "That's the one take we kept, but we went down Commerce and Houston," says Luna. "We tried it about seven or eight times."
Though the tunes on The Please Help ease up a bit, it's by no means a sanitation of his old stuff for the sake of the next and imprintable generation. "It's still art," says Luna. "I don't want to impress on these kids that they have to generi-fy anything they do, 'cause they're artists too."
On "Criminal," Luna packs the up-tempo "Be My Baby" beat with some disturbing, Jeffrey Dahmer images. "I wanna have you to myself right now / I wanna put you on a shelf in my house," sings Luna, over a seemingly innocuous melody. "Does that make me a criminal?" he asks on the hook. Why yes, yes it does.
"It's really creepy," says Luna. "As creepy as you want to take it, it's in there. It could be as subtle as how we all do that, on some level, we take ownership to our humans. Our friends and definitely our partners. A lot of us more than others, but all of us do it."
Listening to the record, it becomes quite clear that Luna favors the rhyming couplet as his go-to songwriting form. Apparently, I wasn't the first person to mention this. "I had a debate teacher tell me that I should stop doing that in high school," says Luna. "She said, 'yeah you're real sing-songy.' I try to break out of it 'cause I hate falling into a formula." Though it's prevalent, the metre is hardly a formula. Rather, the patterns fit quite nicely into Luna's pop songwriting.
Though the record only came out in November, Luna and the band are already preparing the sophomore record. "The next one will be very similar," says Luna. "Before I break up and change it up a whole lot."