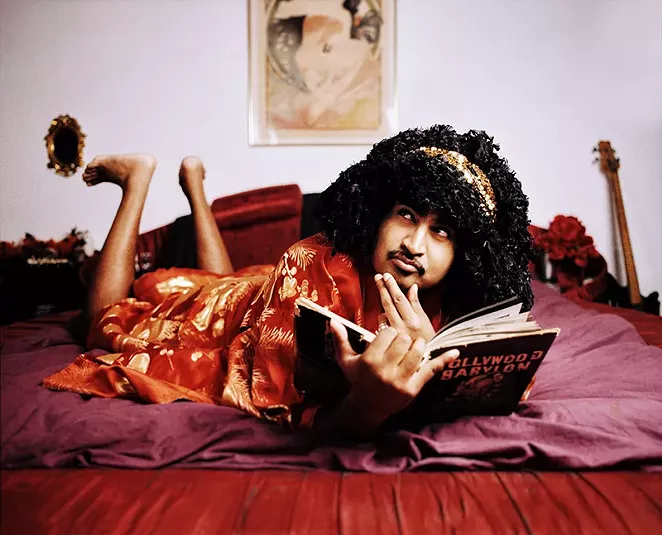 Courtesy
Santa Muerte is the fastest growing religious movement in the U.S.
The King Khan and BBQ Show is back together, correcting a massive error in judgment that took place on a Sydney, Australia stage five years ago. That's where a spat between Arish Ahmad "King" Khan and Mark "BBQ" Sultan led to a split-up in which the duo didn't speak much with each other for years. "I've got two little daughters," Khan said. "They'd listen to King Khan and BBQ all the time and go 'Why did you break up, it's so stupid.' To hear your children tell you, you know you made a stupid mistake ... now Mark and I are stronger than ever." Reunited last year, the duo did a string of shows with the Black Lips and have just released Bad News Boys, their fourth studio album on In The Red Records. The King Khan & BBQ Show is now back on the road —men with a mission.
"The world has to relearn the merits of chaotic, basic rock 'n' roll and we're the best professors to do that," Khan said. "We've always celebrated chaos and we still do. But kids today don't get that. They don't even know who The Beatles are." Khan and Sultan have spent two decades earning their professorial credentials, first coming together in 1995 in a Montreal garage band with, for some publications, an unprintable name (The Spaceshits). After that band broke up, Khan and Sultan got together in the early 2000's to make the scuzzy two-man brand of rock 'n' roll that fuses garage, punk, doo-wop and '50s rock into a catchy propulsive mix. "We've been doing this since we were teenagers," Khan said. "We're honed in and we've got this weird connection. We can make the sound of 10 people using the most primitive equipment. We've got this real primitive magic. I don't know how else to describe it. Because we're so interconnected, there are all these boundaries we've been able to cross." Bad News Boys, which takes its title from the name that almost became the duo's moniker, captures Khan and Sultan at their loose, noise-making best. "Me and Mark just did it," Khan, who lives in Berlin, said. "We recorded it in his basement and some in my living room. It was one of the best times. I had so much fun I didn't remember what we'd done the night before, just like Screamin' Jay Hawkins said after he did 'I Put a Spell On You.'" Khan, who peppers conversation with references to the pantheon of rock 'n' roll greats, was quick to agree that he and Sultan are also aiming to bring fun back to rock, which, he said, got serious and boring in the late '60s. "I think it had a lot to do with sexuality," Khan said of rock's loss of fun. "This whole male chauvinist thing that took it to cock rock and took over. The best rock 'n' roll is the gayest, most sexually free rock 'n' roll. I remember early on, the rockabilly guys didn't go near me because they thought I looked too effeminate, but their girlfriends were right there in the front." 'It's like the difference between the Stooges and the MC5," he said. "I like the MC5 and some of their songs. But they had this whole Viking attitude — with their women cooking and all that — toward rock 'n' roll. Then you have the Stooges and Iggy Pop, who's bloody in the bathroom with Playboy bunnies taking care of him. I know which one I'd choose." That philosophy extends to the duo's wild stage shows. It's not every band that can hold its own opening for the over-the-top Black Lips, but Sultan and Khan do just that. "What makes the magic on stage is we feel like we're 12 years old and that kind of youthful indiscretion preserves us like a fine pickle," Khan said. Khan and Sultan will each continue to pursue their other projects. Sultan has a solo record coming out soon, while The Shrines, Khan's big R&B band is "on hold because we have four new babies in the band. If you look at that, there must have been a long tour that came to an end. That's how its works. Rock 'n' roll comes in spurts." That said, Khan reiterated that he and Sultan won't make the break up mistake again. For as long as they can, he said, the King Khan and BBQ Show will continue to bring chaotic rock 'n' roll to the world. "We do it in such a pure way, it feels like a magical thing," Khan said. " When we were hanging with Lou Reed, he said he really appreciated that about our music. The Velvet Underground had the same things. It wasn't about some commercial thing or selling records. It was pure. It was real."
The King Khan & BBQ Show
$13, 8pm, Tues Nov. 3, Paper Tiger, 2410 North Saint Mary's St., papertigersa.com