deep fried milky way Ah, rodeo food: It's not the cheapest fare you'll ever eat, and it's certainly not the healthiest, but there's nostalgia, of sorts, and undeniable glee that comes with digging in to an overpriced corny dog still dripping with hot grease. Though frigid temps kept many indoors on the first day of the San Antonio Stock Show & Rodeo, the Current was there, diligently assessing the selection of heart-stopping rodeo cuisine. At $12, a trio of deep fried, beer battered sausage jambalaya balls from the Cajun Cowboy serves as a hearty appetizer. For your main course, there are less unhealthy options available from Garlicky's, like chicken or vegetarian kebabs, and there's the tasty Greek gyro at Santa Lucia Or, there's the HOT MEAT SUNDAE. A mere $7 gets you a scoop of mashed potatoes smothered in shredded beef, gravy and cheese, with a cherry tomato on top.
red velvet funnel cake and bacon-wrapped peanut butter >>>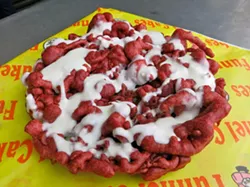 There's kettle corn and funnel cakes, of course, but why not shell out a dollar more and go for the red velvet funnel cake? Vaguely red velvet flavored, the addictive and crimson fried dough is topped with a drizzle of white icing. If you must have powdered sugar, to spill on your clothes and accidentally inhale with every bite, aim for a deep fried candy bar—just five bucks for either a Snickers or Milky Way! The real winner here is undoubtedly Big G's bacon bomber ($7). Deep fried, bacon-wrapped peanut butter on a stick is topped off with chocolate sauce, powdered sugar and real bits of crispy bacon. That hits pretty much every food group, right? Provecho!
Hungry? See also the Rodeo Food Slideshow