Patrick Attwater isn't my first vegetarian friend, but he's one the most enthusiastic. Save from sending me links to PETA videos, the owner of One80 Solar is a bit of a poster boy for all things vegetarian/almost vegan. Though not averse to a plateful of vegetables, my general conditioning is to seek out delicious animal proteins (and I refuse to imagine a life without eggs, or cheese or a really great pork chop).

But in the spirit of this never-ending food journey I've found myself on as food and nightlife editor, and in an effort to connect with a growing population, I agreed to eating at least one vegetarian dish a day for a week with Attwater as my veggie spirit guide. Filled with a few of the 10-year vegetarian's favorites, we kept the restaurants in the New American genre (while sticking to non-veggie specific joints, of which SA has seen a boom lately) and here's what we've found. I probably won't be switching to a totally vegetarian/vegan diet anytime soon, but there are worse things that knowing what to order if I don't feel like animal protein for lunch.
Liberty Bar's Zucchini Sandwich
// Our week began with a visit to Southtown's salmon-colored convent for their zucchini sandwich, ensalada de garbanzo and a pizza (Attwater's creation of artichokes, "fancy" olives, red sauce, mushrooms, hold the cheese). Much like their meaty counterparts, the bread, in this case sourdough, was integral to making a great sandwich. The zucchini was grilled just past al dente, and the addition of yellow mustard helped liven up the summer veg. Don't forget to add the eggplant puree to the mix, but beware: this sandwich is messy. Paired with the warm ensalada de garbanzo of sautéed chickpeas, carrots, celery, garlic, onions, spinach and feta, the sandwich was a solid start to our journey.
$9 for sandwich, $10 for salad, 1111 S. Alamo St., (210) 227-1187, libery-bar.com.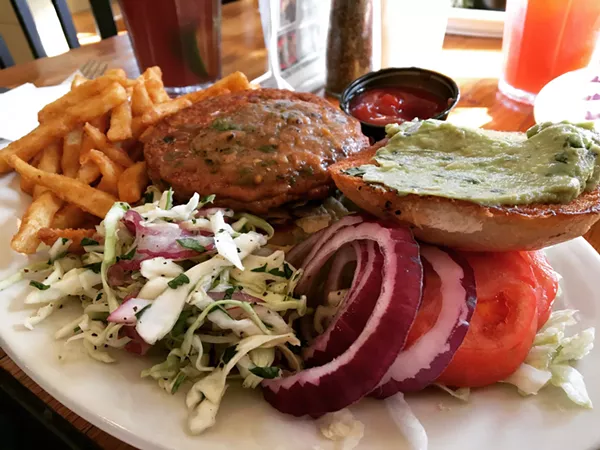 La Tuna Grill's Garden Bean Veggie Burger
// Though the roasted lamb sandwich is an old favorite, I was pleasantly surprised with the garden burger at La Tuna if only for its accouterment and sweet Hawaiian buns. Topped with refried black beans, guac, crush tomatoes, cheddar, roasted salsa and tortillas chips for good measure, the burger lets you customize the lettuce, tomato, onion ratio. Ask for half-fries, half-coleslaw, for extra zest.
$9.79, 100 Probandt St., (210) 212-5727, latunagrill.com.
The Cove's Vegan Bacon Cheeseburger
// On day three, the idea of yet another sandwich was a bit daunting. We split the kale avocado spinach salad, vegan barbecue delight with a chipotle-laced barbecue sauce and the vegan bacon cheeseburger, both with house-made patties as foundation. Though the delight was good, I was impressed with the tofu bacon — shocking, I know — and the variety of textures in this humble sandwich. Crunchy, creamy, toothsome and I didn't miss beef once.
$9.25, 606 W. Cypress St., (210) 227-2683, thecove.us.
Ming's Noodle Bar's Ma La soup and Veggie Buns
\\ Scheduling conflicts made for asterisk days where I didn't have a veggie buddy to share my meals, but already deep into this quest, I decided to continue on my own at Ming's Thing. Vegetarian items were easier to spot at Ming's Noodle Bar where the menu is actually pretty veg-friendly. I opted for the "Ma La" noodles of sweet potato noodles, fresh broccoli and mushrooms and a Sichuan-style (read: spicy) broth. Yes it's a bit of a cheat with its chicken broth, but after doubling my veggie serving I couldn't phatom adding sausage or pork belly to the mix. The veggie bun, topped with German slaw, pickled edamame and fried shallots was a nice bonus.
$8.50 for soup, $3 for bun, 5249 McCullough Ave., (210) 570-6318, mingsnoodlebar.com.

(Editor's Note: I did sneak a trip to Earth Burger for their tasty fish sandwich that week. Something about those nori flakes...)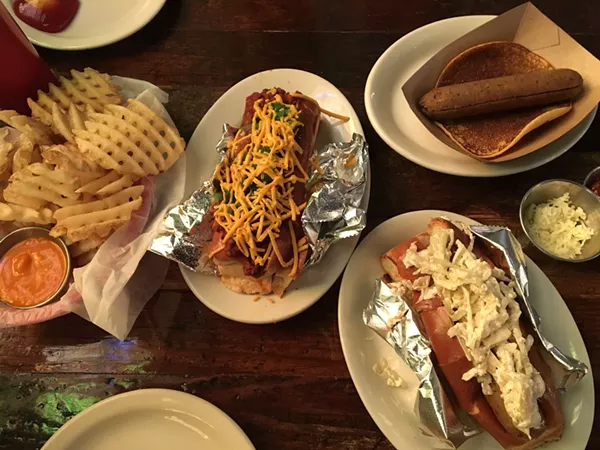 Frank's Vegan Sausage
// We traded mystery meats for mystery wheats at Frank where vegan substitutes are available in either vegan sausage or vegan dogs. Let the fixings be your kids here and opt for the vegan sausage in a Texalina, which combines horseradish coleslaw with a Carolina mustard barbecue sauce and cheddar and add vegan chili. Trust me.
$9.50, plus .75 for sausage switch, $1 for vegan chili, 1150 S. Alamo St., (210) 265-5292.
Bliss' Vegan Platter
// After a week of tasting all manners of patties and wheat concoctions, I still had room for Bliss' vegan offering. Though not on the menu, the plate is always available to order, and changes to fit the season. That night's plate featured an assortment of goods including enoki mushrooms, grilled zucchini and asparagus, farro salad, sautéed carrots and spinach, Brussels sprouts, velvety smooth hummus, a roasted artichoke heart and a roasted cross-section of cauliflower that had us all singing the praises of this chlorophyll-less veg. Enough to satiate big appetites and probably great tossed with quinoa as leftovers, the vegan plate was the highlight of our veggie adventure.
$25, 926 S. Presa St., (210) 225-2547, foodisbliss.com.
Pat's Picks
Attwater shared more veggie suggestions we couldn't fit into our week.
Supper
: Try the veggie plates, each very unique and full of color and flavor.
136 E. Grayson St., (210) 448-8300.


Mad Dogs Riverwalk
: Bangers and mash with veggie sausage and the veggie BLT with veggie bacon. Great veggie bar food on the Riverwalk. The founder of the restaurant was a vegetarian.
123 Losoya St., (210) 222-0220.


Alchemy Kombucha & Culture: I feel like Alchemy still flies under the radar, but has some of the best food in the city - including the rich and flavorful mushroom-filled vegan curry. 1123 N. Flores St., (210) 320-1168.