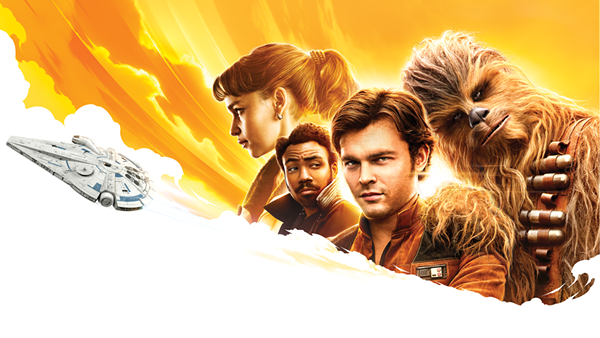 Walt Disney Studios Motion Pictures
You know Solo: A Star Wars Story is off to a bad start when you have to read an essay before it begins. Not in the form of scrolling text, as is normal for an "Episode" film in the Star Wars franchise, but in staid blue text, appearing after we're reminded the story takes place "A long time ago in a galaxy far, far away."
It's a set up for what's to come, but none of it is relevant: names of places, objects being smuggled, etc., are MacGuffins, and easily discernible without the text – they are in the movie. Spoon-feeding the audience isn't necessary, but this is what the Star Wars movies have come to – catering to "everyone" and taking few artistic risks along the way.
This movie is enormous, ugly and dull, an all-out disappointment that no one asked for in the first place.
Walt Disney Studios Motion Pictures
It's also overlong at 135 minutes, but straightforward. On his crime-ridden home planet, young Han Solo (Alden Ehrenreich) does what's necessary to survive. He's in love with Qi'ra (Emilia Clarke), but has to leave, vowing to return to rescue her. He joins up with smugglers Beckett (Woody Harrelson) and Val (Thandie Newton), believing a big score will let him return home. Along the way he meets Chewbacca (Joonas Suotamo) and Lando Calrissian (Donald Glover), among others, and yes, one of the few pleasures of Solo is seeing these relationships take shape.
If only it had more pleasures. Director Ron Howard (A Beautiful Mind) took over, and presumably brought on a more serious approach, after comedy directing tandem Christopher Miller and Phil Lord (21 Jump Street) were fired while the film was in production in June 2017. There's no denying Howard's ability or accomplishments, but the tone is notably dark here, with a color palette of muted browns that do little to liven things up. Add this to father-son writing team Lawrence and Jonathan Kasdan's script, which lacks a sense of fun and wonder, and the whole thing is a laborious drag.
Walt Disney Studios Motion Pictures
What's more, Ehrenreich doesn't have the boyish charm of the original Solo, Harrison Ford, meaning his casting in the title role feels misplaced. Ehrenreich has adequate screen presence, but he reminds one more of a young Jack Nicholson than he does a young Ford. Ansel Elgort (Baby Driver) would've been the better choice as young Solo. There are loose connections to the Star Wars canon as well, including a surprise cameo late in the film that feels chronologically out of sync and cheap.

In a nutshell, Solo: A Star Wars Story encapsulates the issues hindering each new franchise film since Disney acquired Star Wars parent LucasFilm Ltd. in 2012: filmmakers trying so hard to jam pack the movies with action, visual effects, and connections to the first trilogy that they never tell a story well enough for it to stand on its own. Everything is catered to, and minimized for, the largest possible audience, and as a result the movies lack conviction and integrity. George Lucas' original and prequel trilogies certainly weren't flawless, but at least those flaws weren't as egregiously pandering as this.
3.5 stars