Animal Care Services
Rosie the pit bull is on her way to recovering from her injuries.
Atrocities such as animal cruelty rarely lead to happy endings. So it's a remarkable and positive surprise that one case in San Antonio is moving in that direction.
Rosie, the pit bull who was doused in hydrochloric acid, is making a recovery, according to a news release by Animal Care Services. The chemical burns caused severe damage to her face, nearly blinding her and eating away at both of her ears.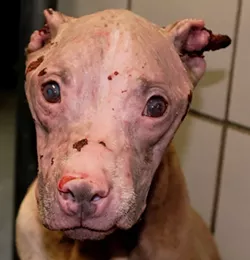 Animal Care Services
Rosie before receiving treatment from veterinarians.
But the five-year-old pup is making a comeback, thanks in large part to people who generously donated money, toys and treats to help her out. She's spent two months with acs recovering from her ailments.
Veterinarians who treated Rosie say that her eyes have healed so much that she'll no longer need surgery, according to ACS. Vets have also treated her for heartworms and other medical issues.
Rosie is now in foster care awaiting adoption. Ignacio Sanchez Alvarez, the man who allegedly doused her with acid according to the
San Antonio Express-News
, was arrested on August 25 and faces felony animal cruelty charges.