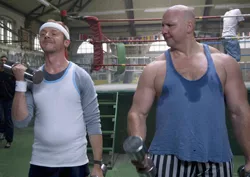 Run Fatboy Run
Director:
David Schwimmer
Screenwriter:
David Schwimmer
Cast:
Simon Pegg, Hank Azaria, Thandie Newton
Release Date:
2008-03-26
Website:
http://www.runfatboyrunmovie.com/
Rated:
PG-13
Genre:
Romantic Comedy
Oooh, that explains why this isn't funny: David Schwimmer directed it! For a second there I thought nothing could overcome the magic certain to be borne of the writing partnership of Mr. Wonderfuls Simon Pegg (Shaun of the Dead, Hot Fuzz) and Michael Ian Black (The State, Stella). Wrong! Ten years starring on a show with a laugh-track sure put a damper somebody's comic sensibilities.
Seriously, though, who thought this was a good idea? Schwimmer's latest directorial achievement? You ready? Two episodes of Joey. Quick, find the corporate checkbook — get this man signed! Ugh.
In addition to his scribe duties, Pegg plays the titular "fatboy," Dennis Doyle. Dennis wigged on the day of his wedding to his pregnant girlfriend Libby (Newton), and ran off as she stood screaming his name in the street. (Prick, right? But you can't hate 'im, he's Shaun.) Since that fateful day, Libby's life-trajectory tipped upward, his, southerly. Five years later, when a rich, fit hedge-fund manager (Azaria) enters her life, Dennis, now a security guard (and a bad one), is finally ready to commit. To prove it, he's going to run the same marathon as Libby's lover.
Unfortunately, Run Fatboy Run plays like what it sounds like: A classic case of territorial-male syndrome, and quite frankly I'd rather watch Pegg prove himself as a mate by killing zombies than running. Also, it would have been nice to laugh more than twice (and then not wholeheartedly). But the film is so satisfied with its potentially funny lines that when it sticks the landing of a joke it pauses (Eh — did you get that? Where's a laugh-track when you need one?) instead of walking off like nothing happened.
All that said, there are some genuinely sweet moments — and I can't believe I'm saying this — most of them involving Libby and Dennis's Lord of the Rings-obsessed son, Jake (Fenton). At least Schwim's got that and Some Girl(s).