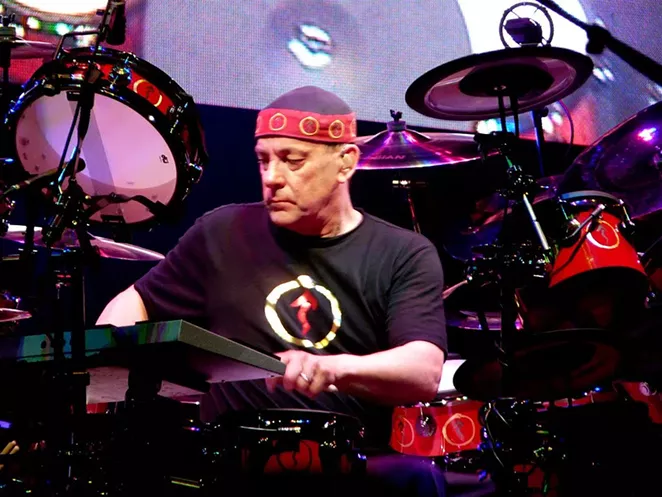 wikipedia
One of the few drummers in the world that can own a 40-piece kit and not be totally lambasted as a complete, useless nerd.
After 40 years of sci-fi influenced, dystopian brilliance, spanning from the bluesy debut
Rush
to 2012's
Clockwork Angels
, Rush drummer and lyricist Neil Peart has dropped hints that he is done touring with the group. Peart, known as one of the world's premier drummers with his prodigious
40-piece kit
and arthritis-inspiring fills, has become a pop culture phenomenon in his own right, particularly for the Rush-worship of foul-mouthed, smokin', drinkin', piss jug-throwin'
Trailer Park Boys
.
Peart, who joined the band in 1974 after the departure of original drummer John Rutsey, took over lyrical duties from bassist and primary vocalist Geddy Lee, despite Lee's penning of the first LP. Although remaining close to the blues rock heard on tracks like "
Working Man
," once Peart took over Lee and guitarist Alex Lifeson were free to explore the multi-movement, free song structure techniques that would make them one of the leading rock bands in the world.
Citing his young family and age as influencing factors in his decision, Peart was quoted saying, "It does not pain me to realize that, like all athletes, there comes a time to … take yourself out of the game ... I would rather set it aside then face the predicament described in our song 'Losing It,'" which states, "Sadder still to watch it die, than never to have known it."
For 40 years of otherworldly monster rock, we thank you, Neil.