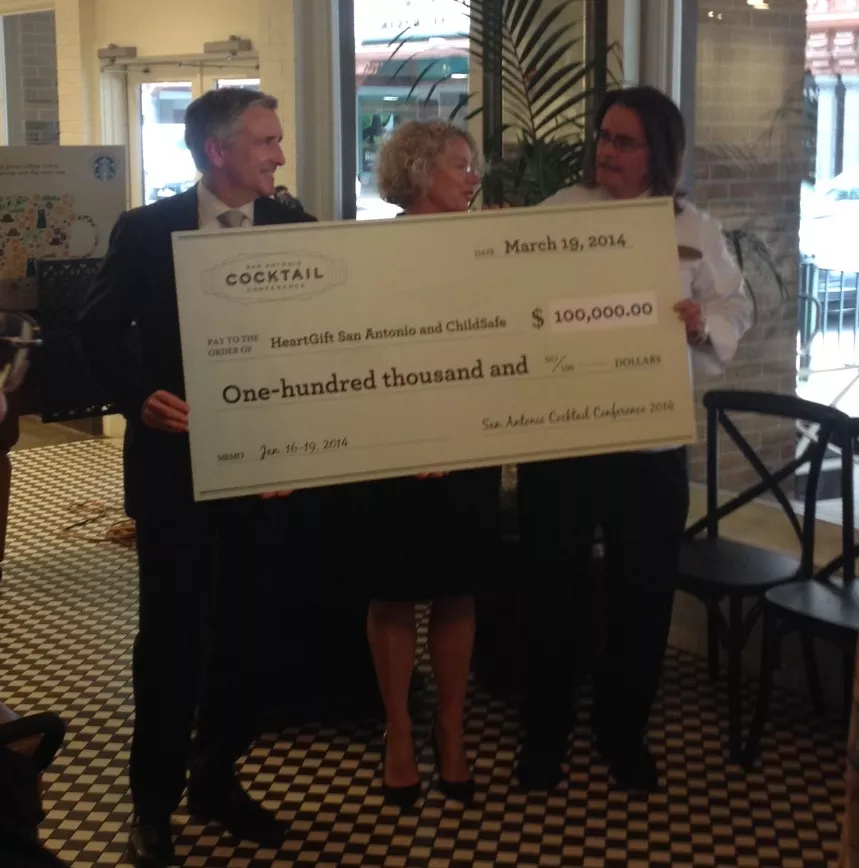 Charlie Deacon (HeartGift SA), Kim Abernethy (ChildSafe) and Mark Bohanan during Wednesday's press conference.
The collective hangover has subsided from this year's San Antonio Cocktail Conference, and it's time to pop some more bubbly. On Wednesday afternoon, Mark Bohanan, owner of Bohanan's Prime Steaks & Seafood and creator of the SACC presented a $100,000 check to HeartGift San Antonio and ChildSafe during a press conference.
James, a 2-year-old from Uganda, and most recent recipient of a life-saving surgery on March 3 made possible through donations by the SACC was in attendance, along with his mother. Bohanan thanked behind-the-scenes members of the conference including employees Jenny Rabb, Scott Becker and ChildSafe's Cathy Siegel for their work in bringing in 6,500 overall attendees (including 800 during the opening night gala at the Majestic Theatre), hailing from 30 states from the U.S., 60 different cities within Texas and a few visitors from Germany, Australia and Canada. You can read more about the event here: Behind-the-Scenes at the San Antonio Cocktail Conference.
Bohanan also credited King Cocktail Dale DeGroff and Tipsy Texan David Alan for their contribution to the conference which he said lends the event "credibility to what we do."
To date, the SACC has donated close to a quarter of a million to children's charities.
"We're not done yet," Bohanan's said on the topic of future conferences, "there's no stopping in sight."