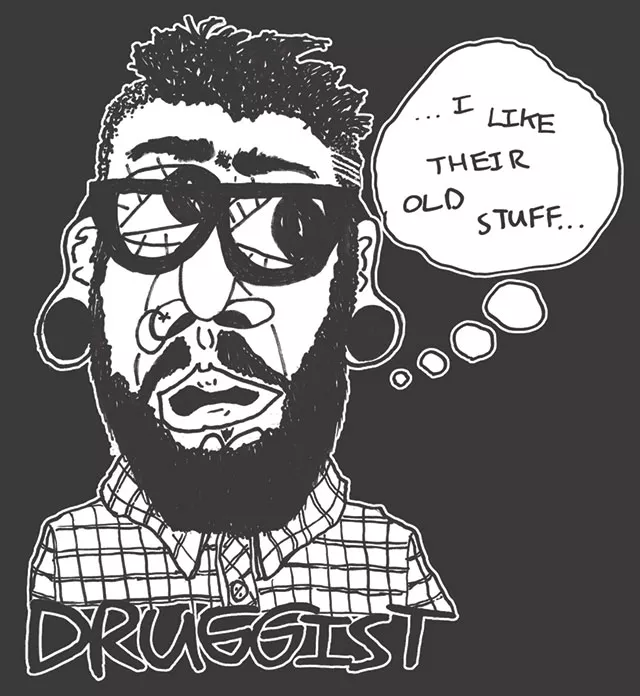 Druggist, the duo of guitarist Blake Cormier and drummer Zach Dunlap, began making music in San Antonio in 2005. At first, the pair was joined by a bassist and a second guitarist, but after releasing 2006's promising debut Early Michael Keaton, the band became what it remains to this day: two dudes making deceptively simple, power-pop rock music with a big heart and an endearingly earnest flair.
Druggist songs are exercises in both restraint and indulgence, with lyrics full of pain, anger, love and honesty adorning music that churns and chugs forward looking for completeness, not perfection. Nothing ever seems wasted or over-wrought with this band.
The pair released two more excellent albums—There's Already an Everything (2007) and their magnum opus The Pile On (2009)—before deciding, on the basis of both personal and music-related considerations, to head west. Since living on the West Coast, the two have slowed a bit in their output and have returned, in some respects, to a grittier, looser version of themselves than displayed on the ambitious The Pile On. However, Druggist's most recent release, 2013's 4, is the work of two individuals who have found the proper balance between living and creating, matched with confident songwriting that all culminates in a raw and effortless sound.
Of their initial decision to move westward, Cormier, who recently spoke to the Current by phone, says that "[they] felt like [they] had to leave and find new challenges and stop trying so hard to not play the same shows over and over in the same places." It turns out the band hasn't been playing any shows at all. Friday's show at The Ten Eleven will be the first live show Druggist has played in five years.
While life and other musical projects have intervened to some extent, don't get it twisted: Druggist is in this for the long haul. Apart from this must see one-off show, the duo has an EP (Worst People on the Planet) and their fifth LP (5) on the way in the near future. Both Cormier and Dunlap write endlessly, with a particular creative impatience that seems to lend their music a crackling electricity and disarming immediacy. Cormier indicates that these two will likely be making music as Druggist as long as they can. "Neither one of us are interested in going backwards or even in standing still. You've gotta just put your head down and keep moving forward," Cormier muses.
If you are new to the wide and weird world of Druggist, or simply looking to review, head on over to druggist.bandcamp.com where you can stream/download all of the SA expatriates' material.
Druggist feat Butt 2 Butt, The Saarinens
$5
9pm Fri, June 20
The Ten Eleven
1011 Avenue B
(210) 320-9080
theteneleven.com