What's your idea of indulgence? Is it creamy pasta from Il Sogno Osteria (200 E Grayson), a bacon cheeseburger from Mark's Outing (1624 E Commerce), or a killer cocktail from Park Social (218 E Olmos)? Luckily for SA locals, there's no shortage of restaurants and bars that'll help you find your favorite way to indulge.
Share some of your favorite indulgences and whatever else you're eating from around SA by using the hashtag #SAFoodPics. Connect with me on Instagram and Twitter by following me @MrCJHarper so we can chat all things food and booze in SA.
@romejarhead
Flautas from @urbantacosa #safoodpics
@kimmy486· Central Market
Lunch at @heb central market was this yummy grilled veggie panini #sanantonio #safoodpics #yum #chesseme
@thestyledossier· Braza Brava Pizza Napoletana
We had the pleasure of trying Braza Brava tonight! Get over there San Antonio, it's amazingly good Italian style pizza! You can't go wrong! #pizza #SanAntonio #safoodpics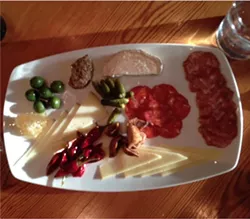 @taco_belle_13· BLISS
I LIVE for cheese/meats plates ??
@sagoodeats· The Shops at La Cantera
Feeling fancy at the Jazz Brunch this morning! The chefs of Magnolia Pancake Haus are serving up some delicious banana foster french toast and pancakes! #safoodpics
@jacobburris· Il Sogno Osteria
Live for the dish. Clam linguine. #ilsogno #safoodpics
@roger_m83· Mark's Outing
The Glamour Life #BaconCheese #SAFoodPics
@brendasq
el mágico, missions and cali taco @yellowfishsushi #lunch #japamex #nofilter #safoodpics #yellowfishsushi
@onedropofsweetpoison· Cured at Pearl
Chicken liver mousse, green onion sausage and pork belly!! Loved it all especially the side of pickles!!! I want a jar of those #safoodpics
@_alliecakesz· Park Social
Carmello: bourbon, scorched caramel, pinch of salt, & bitters. #mouthgasm #SAfoodpics